Journey from Suzhou to Beijing to Project Pengyou
Updated: 2011-12-25 07:45
By Mike Peters(China Daily)
| | | | | | | | | |
| --- | --- | --- | --- | --- | --- | --- | --- | --- |
|   | | Print | | Mail | | Large Medium  Small | 分享按钮 | 0 |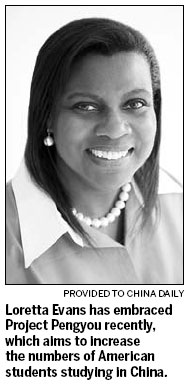 When Loretta Evans arrived at Suzhou's Soochow University in 2005 to teach computer engineering and software, she was the first foreign instructor ever recruited to teach anything but English.
She was also an African-American woman in a community that didn't see many foreigners at that time.
"Oh, yeah, people stared at me," she says, remembering her first days in China, alone with no social support or safety net and no ability to speak Mandarin.
But none of that worried her much.
"The university took very good care of us," she says. "I'd always wanted to come to China: I loved the mystery of it, I didn't know many people who were coming here, and I saw the language and culture as compelling challenges."
Evans got the "Asia bug" after spending a summer abroad in South Korea during her university days, she says, and decided if she ever got the opportunity, China was next.
"It was kind of serendipity how I got here," she says. "I'd been working for the phone company, and I'd finished my doctorate at George Washington University. Verizon offered a buyout, and it seemed like an opportune time. Then I went to a college fair just as it was closing, and this woman starts telling me about jobs in China."
When her one-year contract in Suzhou ended, she was hired by a state-owned company and moved to Beijing. After enjoying the shelter of the university, she suddenly felt more alone even though she was in the capital. The language barrier became huge.
"But one of my goals coming to China had been to learn the language, to become independent," she says. "So I was highly motivated to learn. For six months I took lessons one-on-one for five hours a day. I like to study, and though it was hard work I think I picked it up pretty easily.
"Can I be a translator at the UN? Of course not, but can I live comfortably here? Yes."
Soon she started consulting in the telecom industry, and savored the experience of working for Chinese firms. Still eager for a cultural immersion, she resisted meeting and hanging out with foreigners then.
Today, however, Evans enjoys interacting with expats as well as locals. She's a leader in the very dynamic University of Pennsylvania alumni group in Beijing. She also recently embraced Project Pengyou, becoming one of the "China alums" supporting US President Barack Obama's drive to increase the numbers of American students studying in China from about 13,000 to 100,000 within four years.
"I want to see more women any color! in the sciences here," says the entrepreueur with more than 20 years experience in IT and seismic data processing. "I work in geophysics and telecom, and there is plenty of room for women in those fields, both local and expats."
What has she learned that she shares with newcomers to China?
"There's no correlation between really good food and prices," she says with a chuckle. "You can pay not very much for really excellent food, and you can pay a lot for something that's not so good."
It also helps to love challenges if you come to China, and language is just the first one. As a black woman, for example, it took her a long time to find a salon or a stylist that could take care of her hair.
"No matter who you are, you're going to get pretty good at negotiating if you're here very long," she says. Dealing with issues like intellectual property can make Westerners nervous or frustrated, she says, "but that's why I like being here, working in a new culture and coming to understand it."
"Most people I work with and I'm talking about Chinese people want to make things work, be successful," she says. "I can relate to that."
You can contact the writer atmichaelpeters@chinadaily.com.cn.
China Daily
(China Daily 12/25/2011 page4)