Doha's Education City: investing in the future
Updated: 2011-11-27 08:17
By Wu Liping (China Daily)
| | | | | | | | | |
| --- | --- | --- | --- | --- | --- | --- | --- | --- |
|   | | Print | | Mail | | Large Medium  Small | 分享按钮 | 0 |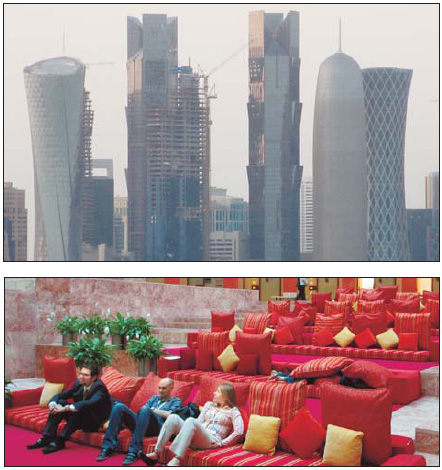 Top: A forest of interesting skyscrapers spreads out along Corniche Avenue in Doha. Above: In an amphitheater in the Education City, normal seats are replaced by padded steps. Photos by Wu Liping / China Daily
November in Doha is pleasant and mild. Walking out of the airport after midnight, we were welcomed by the warm sea breeze and bustling streets still ablaze with lights.
We have been invited to the capital of Qatar to participate in the annual World Innovation Summit for Education (WISE). Inaugurated by the Qatar Foundation, the three-day summit is a platform for the exchange of educational innovation worldwide.
Thanks to its oil-based economy and decades of development, Doha is a blend of modernity and traditions, with some exotic touches.
Along the northwestern end of Corniche Avenue, a forest of interesting skyscrapers spreads out, while in the central downtown Souq market, Arabic architecture brings visitors back to the days of the One Thousand and One Nights.
The Museum of Islamic Art, which sits on the south end of Doha Bay, welcomes visitors with its facade of ancient Islamic architectural style, and a trove of artifacts dating back to the seventh century.
Outside the museum, Doha's harbor is shadowed by the silhouettes of cranes on the bustling construction site of the port and fishing vessels. It intrigues me and I feel as if I am looking at Monet's oil Impression Sunrise.
Our trip was focused on education, so the Education City is definitely on the itinerary.
"Qatar has a small population and we should be able to provide top-quality education," said Sheikh Abdulla bin Ali Al-Thani, chairman of WISE. "Our natural resources are not always going to be there and we need to build our economy differently. So what we really have to do is invest in our youth."
Built by the Qatar Foundation in 2001, the campus covers an area of 14 square kilometers on the outskirt of the city, and houses off-site chapters of some of the world's leading universities, including some in the United States and United Kingdom.
The campus grounds are like a showcase of avant-garde architecture. These edifices bounce off each other in unity and diversity: light-colored and flat, shaped like cubes, eggs and waves.
Under the blazing sun at noon, the buildings, all well equipped with air-conditioning, are like oases. The interiors are modern, multifunctional and humanistic. In an amphitheater, normal seats are replaced by padded steps, on which colorful cushions of all sizes are scattered. The special "seats" are ideal for students to enjoy a "cozy" lecture or have a nap during the break.
What surprised me was that in a country with a male-dominated society, there were many girls on campus.
"It's important to have an option for women, who prefer to stay home rather than go abroad to study," said Abdulla.
"That's why we have a high proportion of women in Education City - around 70 percent."
The Education City provides a variety of educational choices. The Al Shaqab - the world-class equestrian center - together with its riding academy, is one of them.
Arabian horses and equestrian skills have been a Qatari heritage for centuries, triggering an image of a majestic white Arabian steed led by a young Arab in white head-scarf and flowing white robes.
Every horse at Al Shaqab is named and quartered in separate stalls in the stables, with only young foals sharing space with their mothers. Many are champions in local and international equestrian competitions. They even have their own bathrooms, swimming pool and comfortable indoor training spaces.
The riding academy provides riding lessons and equestrian training from the age of six up.
You may contact the writer at wuliping@chinadaily.com.cn.
China Daily
(China Daily 11/27/2011 page16)