Parker smells potential in China's wines
Updated: 2011-11-27 07:48
By Yang Yijun(China Daily)
| | | | | | | | | |
| --- | --- | --- | --- | --- | --- | --- | --- | --- |
|   | | Print | | Mail | | Large Medium  Small | 分享按钮 | 0 |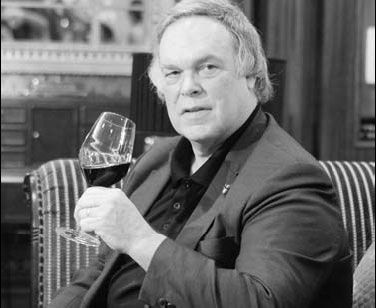 Robert Parker, owner of "a million-dollar nose", believes China's fine-wine market is strong and growing. Yong Kai / for China Daily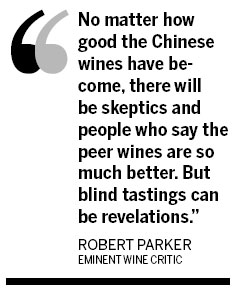 If you hesitate about choosing from a large selection of wine, what will you do? For many people, the solution is quite simple: choose one with a high score from Robert Parker.
The world's most influential wine critic, Parker's million-dollar nose and his 100-score rating system have great impact on the wine industry.
The famous oenophile was on tour in Shanghai and Hong Kong recently to share his views and advice with wine lovers, the emerging wine market. Parker attended an exclusive dinner at the Pudong Shangri-La Shanghai, which featured a selection of rare vintage wines he has highly rated. Despite the price of 28,888 yuan per person, all the 40 tickets were sold out within two weeks, with some guests flying to Shanghai to meet him.
Chinese wine consumers are often considered to be unsophisticated, as they often select wines based on prices. However, Parker feels the fine-wine market in China is real and Chinese people's interest in quality wine is genuine and will grow.
"I say that because first of all, it's a beverage pleasure. I think Asians have an appreciation for the culture behind wine," he says. "It also complements food."
For instance, he says, Cantonese cuisine works fabulously well with all kinds of wines and even the spicier cuisine of Sichuan can pair wines very well, though more white wine is needed.
In Parker's eyes, the tea culture in Asia is a great advantage.
"When the Asians taste young Bordeaux, it's the same exact texture as the tannin in tea," he says. "It's not a foreign substance, it's something you know and understand."
However, Parker has sensed that the Western wine producers led primarily by people from Bordeaux have tried to take advantage of the Chinese wine consumers by charging high prices, as they see the Chinese as a great dragon that can afford these wines and seem to like these wines.
Fortunately, he adds, the Chinese are starting to challenge such prices.
In his observation, China's interest in fine wines has happened much more quickly than that of the United States. The sort of wine appreciation that has occurred in the past decade in China took over 20 years to develop in the US.
Parker reviews Chinese wines regularly. His Wine Advocate has 55,000 subscribers worldwide and he is looking for an appropriate partner to have a Chinese version of the website..
Although Jia Bei Lan 2009 recently became the first Chinese wine to receive an international trophy at the recent Decanter World Wine Awards, the wine fails to satisfy his legendary nose.
"For me, it has a very unusual smell. I don't know what kind of wood barrels they use, there is something not quite right about the aromatics that I felt was a flaw," he says.
"Once I tasted it, it was a little bit more interesting in taste than it was in smell, but smell is so critical, it's the thing that sets your mind up to appreciate what is coming."
But Parker speaks enthusiastically of the Silver Heights wines from the Ningxia Hui autonomous region, which he has tasted during his stay in China.
"I did a tasting about Chinese wines five years ago. I convinced the Chinese there had to be terroir, there had to be segments with the right soil, the right climate where great wines can be produced," he recalls. He's also impressed by Symphony, made in cooperation between Torres China and Shanxi-based winery Grace Vineyard.
"The red wine wasn't as concentrated as Silver Heights, but it was beautifully charming, very elegant. The white wine was a muscat. It tasted like very young vines and a very new project. It has the right smell. The beginning taste was pleasant, but then it just became diluted," he says.
"I think China has a tremendous potential," he says. "Even in American wine circles, there is always a tendency to criticize local wines and favor the peer wines because they have the category in history. You'll have the same thing in China. No matter how good the Chinese wines have become, there will be skeptics and people who say the peer wines are so much better. But blind tastings can be revelations," he says.
"I decided when I started writing about wine 32 years ago that I was going to judge what was in the bottle. That is the only thing that was important. For me, I am writing for the wine consumers because I am a wine consumer."
You can contact the writer at yangyijun@chinadaily.com.cn.
China Daily
(China Daily 11/27/2011 page4)