IN BRIEF (Page 2)
Updated: 2011-11-27 07:46
(China Daily)
| | | | | | | | | |
| --- | --- | --- | --- | --- | --- | --- | --- | --- |
|   | | Print | | Mail | | Large Medium  Small | 分享按钮 | 0 |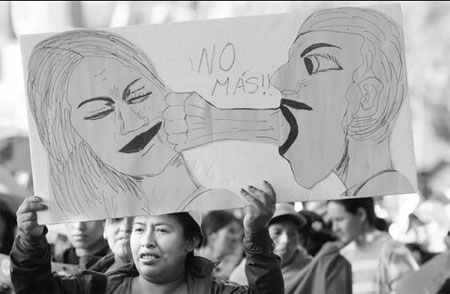 They've had enough
A woman holds a sign that reads "No more" during a rally against abuse and domestic violence in La Paz, Bolivia, late on Friday, the day marked the International Day for the Elimination of Violence against Women. Photo by Gaston Brito / Reuters
Iraq
Serial blasts rock marketplace
At least four people were killed and 25 wounded in three bomb explosions in downtown Baghdad on Saturday, an Interior Ministry source said.
Before midday, three bombs went off successively at the crowded commercial area of Bab al-Sharji, shattering dozens of stalls at the popular open market and wounding at least 25 shoppers.
India
Pakistan pressed over Mumbai blast
India on Saturday asked Pakistan to bring the perpetrators of 2008 Mumbai terror attacks to justice, three years after the attacks which claimed the lives of over 170 people, including foreign nationals.
Indian External Affairs Minister S.M. Krishna claimed that New Delhi has provided sufficient evidence to Islamabad against those responsible for the "inhuman act", including the alleged mastermind Jamaat ud-Dawa chief Hafiz Saeed.
Pakistan
NATO supply line blocked after attack
NATO helicopters attacked a military checkpoint in northwest Pakistan on Saturday, killing up to 25 troops and prompting Pakistan to shut the vital supply route for NATO troops fighting in Afghanistan, Pakistani officials said.
The attack comes as relations between the United States and Pakistan, its ally in the war on terror, are already badly strained following the killing of al-Qaida leader Osama bin Laden by US special forces in a secret raid on the Pakistani garrison town of Abbottabad in May.
Pakistan called that raid a flagrant violation of its sovereignty.
Philippines
Aquino vendetta vs. Arroyo denied
The Philippine government refuted on Saturday a European think tank's reported claim that the Aquino administration is being vindictive in dealing with ex-president Gloria Macapagal-Arroyo, and such treatment could result in a damaged democracy.
Local media GMAnews quoted a palace spokesman as saying that if the Aquino administration were really vindictive, it would have filed charges against Arroyo immediately after assuming office in the second half of 2010.
United Kingdom
Strike may cut half of Heathrow flights
The authorities at London's main airport Heathrow on Friday warned airlines that they need to cut their capacity by half due to a national strike next Wednesday.
Norman Boivin, chief operating officer of Heathrow Airport, the world's busiest airport, urged airlines to take precautions ahead of Wednesday's strike in order to avoid the airport becoming gridlocked.
Slovakia
Resigning doctorsprompt crisis
Slovak President Ivan Gasparovic and Prime Minister Iveta Radicova announced at a joint briefing on Friday that they have agreed on the need to declare a state of emergency if doctors who had submitted their resignations en masse refuse to accept compromise measures offered by the government.
If doctors don't accept the government's offer, in particular a salary hike of 300 euros ($400) a month and don't sign a memorandum on this, "I'll accept the president's call and declare a state of emergency," said Radicova.
Tunisia
Court OKs Libyan fugitive's extradition
A Tunisian court has confirmed on Friday evening an extradition order for former Libyan prime minister Baghdadi Mahmoudi, state media reported.
The court refused Mahmoudi's lawyers' request for another postponement of the case, the report said. The Libyan official, who did not appear before the court on Friday out of fear for his security, has already applied for UN political refugee status. If granted, it would be difficult to extradite him to Tripoli.
Cuba
Co-op likely with US on storm-watching
Meteorologists from Cuba and the United States have made progress toward the signing of a meteorology cooperation agreement, a Cuban meteorologist said on Friday.
The two groups reportedly agreed to build a virtual library, which would facilitate the exchange of information and pave the way for future agreement between the American Meteorology Society and the Meteorological Society of Cuba.
News Watch
The center-right National Party looked set for a second term in government, taking 49 percent of the ballots cast in the party vote in New Zealand's general election on Saturday.
Under New Zealand's mixed member-proportional representation system, the results so far indicate National could take 61 seats in the country's 120-seat parliament, enabling it to be the first party to govern without coalition partners in a decade.
Xinhua - Reuters
(China Daily 11/27/2011 page2)