China isn't big enough
Updated: 2011-11-06 07:41
By Tang Zhe (China Daily)
| | | | | | | | | |
| --- | --- | --- | --- | --- | --- | --- | --- | --- |
|   | | Print | | Mail | | Large Medium  Small | 分享按钮 | 0 |

Guangzhou Evergrande's Brazilian striker Muriqui celebrates scoring a goal against Hangzhou Greentown during the Chinese Super League match on Oct 29. The team's owner, Xu Jiayin, says exploiting the transfer market to bring in top-notch foreign players is key to the club's designs on having a successful run in the AFC Champions League next year. Provided to China Daily
Sure, Guangzhou Evergrande won the Chinese Super League title, but the real goal is next year's AFC Championship League, writes Tang Zhe.
A domestic league championship isn't going to cut it. Xu Jiayin spent 500 million yuan ($78.7 million) this year to upgrade Guangzhou Evergrande, enough to help the team win its first Chinese Super League (CSL) title.
He said there is no limit to what he'll spend in pursuit of success in next year's AFC Champions League.
"We can't play good games without outstanding players and team," said Xu, who bought the club in 2010, and saw it win championships in the second and first division in two straight years.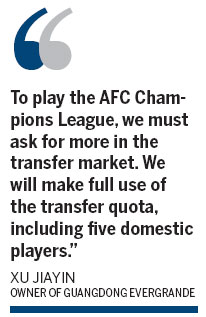 "We spent 170 million to play the second division and I will give as much as needed to play the Super League; I don't care what the cost is," said Xu, whose real estate company has a sales volume of more than 70 billion yuan this year. "I said that we will play the AFC Champions League at all costs on the second day we won the championship, and our target is clear, which is to play the quarterfinal and strive for a semifinal berth."
The 53-year-old, who vowed to win the AFC Champions League title in three years, was expected to be more ambitious. However, he said the target was good enough, considering the Chinese Football Association's (CFA) restriction on the number of foreign players.
Each CSL team is allowed five foreign players, including one from Asia, and four are allowed on the pitch at the same time, again including one Asian.
"To play the AFC Champions League, we must ask for more in the transfer market," Xu said. "We will make full use of the transfer quota, including five domestic players.
"I believe our Chinese players have already lived up to the country's top standard, but I'm not confident with the level of our foreign players when playing on the continental stage. We will undoubtedly bring in more competitive players from overseas next year, including a striker and center halfback," said Xu.
Xu was disappointed with CFA's policy, which will force him to sell Brazilian forward Cleo.
Guangzhou Evergrande finalized a four-year deal with Cleo in February for a 3.2 million euro transfer fee, the league's second-highest following Argentina midfielder Dario Conca's $10 million.
The club has decided to give up Cleo, who had a lingering injury, because he counted as one of the team's five foreign players.
"I don't know why they restrict the number to five. Some teams have to play three tournaments during the season, even we play two - five foreign players is not enough," Xu said. "According to my former plan, we wouldn't sell Cleo for under 5 million euros, but considering the current situation, we will have to sell him for a lower price."
Xu also announced the club will continue its "513" initiative plan in the Champions League. It awards the team five million yuan for a win, one million for a draw, and fines it three million for a loss.
Players from Liaoning Whowin were no less excited than their southern counterparts after taking third in the Super League to seal a spot at the tournament.
The northeast team is the only Chinese club to claim a continental title. It won the 1989 Asian Club Championship, the previous format of the AFC Champions League, but has been out of the tournament since 1994.
Besides Guangzhou Evergrande, Liaoning Whowin and CSL runner-up Beijing Guo'an, Shandong Luneng and Tianjin Teda will play the CFA Cup final on Nov 19 in Hefei, Anhui province, to fight for the last qualification to the AFC Champions League.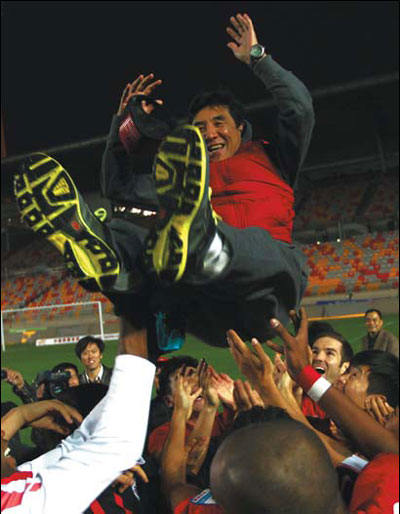 Liaoning Whowin's coach Ma Lin is thrown in the air by his players after finishing third in Chinese Super League to gain an AFC Champions League ticket for next season. Provided to China Daily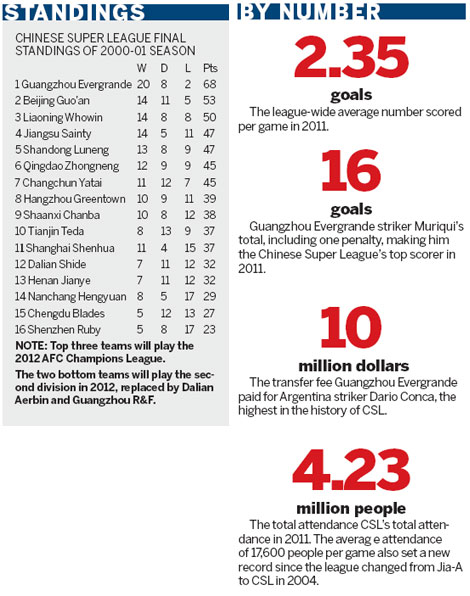 (China Daily 11/06/2011 page8)