Leisurely pleasures of Langkawi
Updated: 2011-10-30 07:47
By Lee Hannon and Todd Balazovic (China Daily)
| | | | | | | | | |
| --- | --- | --- | --- | --- | --- | --- | --- | --- |
|   | | Print | | Mail | | Large Medium  Small | 分享按钮 | 0 |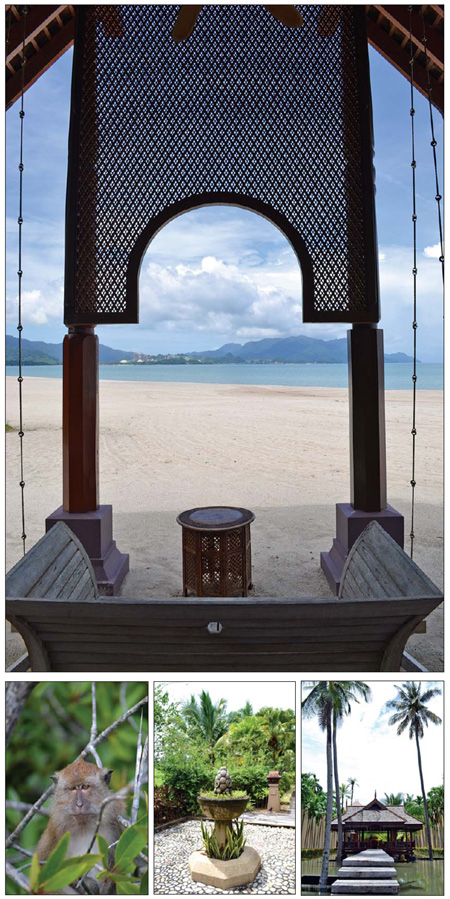 Looking out at spacious sandy white beaches and emerald waters, visitors can enjoy delicious Malay food in the beachfront pavilion, and explore the rich flora and fauna of the island on expeditions into the wetlands. Lee Hannon and Todd Balazovic / China Daily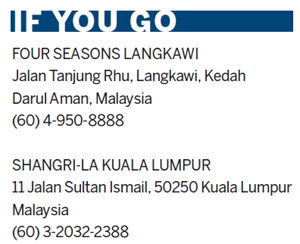 Lee Hannon and Todd Balazovic go pirate hunting in a beautiful island retreat in Malaysia - and find none. Instead, they discover a tropical playground for the rich and famous.
It was once a sanctuary for hordes of pirates who would plunder without mercy any ship on the Andaman Sea, but today Langkawi is a luxury hideaway for travelers seeking a natural tropical paradise.
Lying off the northwestern coast of the Malaysian peninsula, it is the largest among an archipelago of 99 islands whose delights were known only to locals until it was made a duty-free port in 1987.
Now it has emerged as one of Southeast Asia's premier resorts blessed with idyllic spacious sandy white beaches, emerald waters that surround enchanting jungle accessible by air and ferry from the mainland.
It is also home to Malaysia's most luxurious resort nestled on one of the best beaches in the world in an equatorial climate.
Arriving at the Four Seasons Langkawi on the northeastern shore of the island is like walking into a heavenly retreat. The beauty of the indigenous and contemporary architecture is only surpassed by the breathtaking views, accentuated by the warmth and gracious service of the staff.
Quite simply, it is a place you could spend the rest of your life being pampered in decadent luxury, surrounded by lush greenery and the sounds of the rain forest while being served cocktails on pristine beaches.
No wonder it is a tropical playground of the rich and famous, with Hollywood stars Robert De Niro and Charlize Theron along with former UK prime minister Tony Blair being previous guests.
Guests are given free bicycles to maneuver around the 91-villa property that is designed like an old ethnic village to reflect the mixture of Balinese, Chinese and Indian immigrants who settled on the island. Those wanting a more laid-back lifestyle can call up one of the hotel's golf buggies that will ferry you to any of the resort's many restaurants or bars.
So after a 12-hour overnight train ride from the capital Kuala Lumpur and a one-hour ferry crossing from Kuala Perlis on the mainland, we opt for the golf buggy to escort us to the Kelapa Beach Grill for a succulent steak burger washed down with a few Long Island iced teas.
Time seems to stand still when faced with such stunning views and the mind unwinds from the stress of bustling city life. The slowly dipping sun offers the only reminder that the day is drawing to a close.
The resort's Arabian Nights lounge Rhu Bar offers the perfect setting to capture the setting sun while trying some more tropical cocktails and authentic Malay cuisine in a rich Middle Eastern ambience, including Indian Mogul swings and a pool table to boot.
Built in the style of a traditional Malaysian home, Ikan-Ikan - which means fish in Malay - is a beachfront pavilion that serves delicious Malay food. The classic Satay Cucuk - grilled marinated chicken on skewers with peanut sauce followed by Ikan Jenahak Asam Katok, which is crispy fried red snapper in a honey chili sauce. It's all washed down with some fine wine, of course.
The wine and chili had clearly taken its effect as next we find ourselves at a beach bonfire with a group of six Russian girls and a hookah.
One is challenging us to swim to the next island as we pull the mint-flavored smoke through the Turkish water pipe. Another thinks it would be a good idea to walk barefoot through the fire. We told them our grandma warned us we would be burned by a Russian. Luckily they laughed in unison and the subject of a midnight swim across the Andaman was soon forgotten.
After an early breakfast at the Serai restaurant, it is time to put some action into this adventure by kayaking through some jungle mangroves. Paddling through the swamped mangroves is a great way to see nature up close. They act as a natural defense for Langkawi against strong waves - one of the reasons some of the coastal communities were saved from the full force of the devastating 2004 tsunami.
It is a fantastic way to admire flora and fauna while combining a little exercise. The area is full of brown eagles that live in the trees surrounding the swamps. The predators wait silently to swoop down on the feed thrown into the water by boatmen. As the waterways become narrow, more inhabitants of this marine eco-system can be seen up-close, including macaques, iguanas, snakes, walking fish and fiddler crabs.
Kayaking through the mangroves is like an escapade into another world and is an absolute must for the adventurous traveler. They say variety is the spice of life, so with our feet back on terra firma and after one last lunch enjoying the spectacular view from the Kelapa Grill, it's time to consider checking out Malaysia's capital, Kuala Lumpur.
And those with a taste for adventure will not be disappointed in the gastronomically diverse food on offer. Kuala Lumpur is a must for food lovers. While the city might feel characterless, the sheer mix of different ethnicities that live here, including Malays, Chinese, Indians and other indigenous races, makes this a must for serious foodies.
We checked into the Shangri-La in KL, as the city is known locally. The hotel underwent a 279 million yuan (nearly $44 million) renovation in 2009, transforming into a luxury city oasis.
For a little extra per day, guests can join the exclusive Horizon Club, which offers a higher level of quality and privileges. The large rooms with panoramic views of the city are furnished in vibrant tones of red, orange, gold and walnut-brown, equipped with state-of-the-art technology including 37-inch flat screen TVs, personal Nespresso coffee machines and complimentary wireless Internet access.
The best part about paying the extra amount for the Horizon Club is access to the club's lounge, where guests are pampered with complimentary breakfast, afternoon tea, cocktails and light refreshments.
The hotel also has seven other restaurants and bars for guests to enjoy, including Lafite for fine dining and Shang Palace for Chinese cuisine.
The service is first-class and the hotel is keen to tap into China's booming luxury travel market by increasing the number of Chinese-speaking staff. Recognizing China's emergence as an economic superpower, the country's prime minister Najib Razak encouraged more citizens to learn Mandarin.
In the heart of the city on Jalan Sultan is KL's bustling Chinatown. This food lover's paradise is near the hectic Petaling street market, which resembles Beijing's old Silk Market on a bad day. But when the sun disappears, hawkers appear with woks blazing, offering a vast array of dishes such as spring rolls, barbecued honey-glazed pork, chicken, and wonton noodle soup, just to name a few.
The city is a melting pot of cultures and food seems to unite all. Across the capital, traditional Malay dishes like satay, meat skewers in peanut sauce, can be found in most places alongside regional Chinese cuisine and spicy curries from different areas of India. The Malay word for "eat" is makan, and they are as passionate as the Chinese when it comes to food.
You can contact the writers at sundayed@chinadaily.com.cn.
(China Daily 10/30/2011 page16)