A laird in Shandong
Updated: 2011-10-30 07:46
By Ellie Buchdahl (China Daily)
| | | | | | | | | |
| --- | --- | --- | --- | --- | --- | --- | --- | --- |
|   | | Print | | Mail | | Large Medium  Small | 分享按钮 | 0 |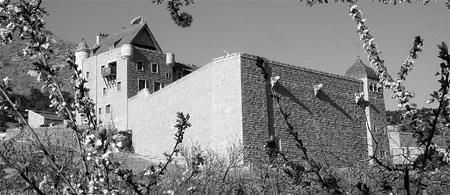 The gray-stone-walled facade of the castle leads visitors into an "ancient" tale of treason, exile and ... wine. Photos by Ellie Buchdahl / China Daily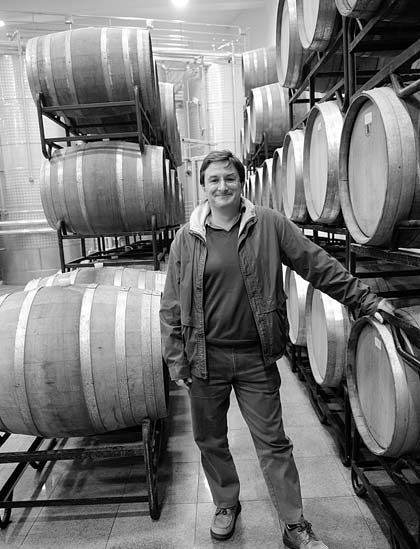 Chris Ruffle, lord of the castle and owner of the vineyard.
The castle owner produces red and white vintages, and he would have Ellie Buchdahl believe that it's been around for a long, long time.
Yantai
In the late 1600s, a mysterious "Sir James" fled Scotland on a treason charge. He washed up on the Shandong shores, and built a castle overlooking the ports of Yantai and Penglai. Today that castle still stands, complete with Sir James' original four-poster bed and the London taxi in which he first scaled the Qiushan hills all those centuries ago.
This is the tale Chris Ruffle spins for every deputation of visitors to Treaty Port, when they plod up the hills to sample the Treaty Port wine and view the castle. The vineyard has so far produced five reds and a white, ranging from rich Marselan/Merlot "Commissioner" at 500 yuan ($79) to the lighter 180-yuan Castle Red - as well as its own brand "Whiskey Mac" of Scotch whiskey and Chinese ginger wine.
"I'm working on how to fit the wine into the Sir James story," Ruffle says.
Guests enter the castle beneath griffon-like gargoyles peering from the gray-stone walls. Kilt-clad staff show them into the great hall, with its arched ceiling bearing nuggets of auld Scots wisdom - "hunger is gude kuche".
There is a billiard room and a sitting room with authentic 16th-century widescreen TV. Two "Japanese-style" and four "European-style" bedrooms come equipped with features like four-poster beds and flower-patterned rotary dial phones. A more rustic option is a room in the renovated Chinese farmhouse nearby. The castle kitchen, which serves gourmet menus from cheese souffl to steak to panna cotta, boasts of having the only Aga oven in China.
"I didn't know anything about wine before," Ruffle says. "I was a complete ignoramus. But I met one American wine snob, who when asked by me whether he would like to try a Chinese wine to go with his Chinese meal answered: 'Ask me in a hundred years '"
Like his decision to study Chinese at Oxford - "the weirdest choice back then at the height of the 'cultural revolution' (1966-76)" - and with enough set aside from his hedge fund management career, Ruffle decided to prove that he could make a decent bottle of Chinese wine.
"I like to shock people - though I hope in a nice way," he says. "To show them it can be done, and I'm the one to do it."
A visit to Grace Vineyard in 2004 was all the proof he needed that Chinese wine could be drinkable. Someone mentioned the Penglai area, on the same latitude as Bordeaux and rich in apple and peanut plantations, and Treaty Port was born.
"If any part of the process was ever easy," Ruffle admits, "you knew you were doing it wrong." Even after he and his wife Tiffany managed to negotiate a deal for the land with officials, local villagers were not over-keen on this new "laird", and staged a protest outside the farmhouse.
Grapes were stolen and vines torched. Even now, strips of peanut farm cut through vines where a farmer still stands his ground.
"It's very short-sighted," says Ruffle. "It's because we're here that they've got the road and electricity. We follow a policy of organic growing, and it's already having an effect - you notice more birds now than when we first moved in. But the farmers still use pesticides and leave rubbish, and there's not a lot we can do about that."
Ruffle had already rebuilt one 12th-century Scottish relic, Dairsie Castle, in Fife in 1996, and flying Dairsie's architect Ian Bell to China was easy.
However, the Chinese builders and designers were utterly thrown by the spiral staircases, as well as other stylistic issues. "I got a lot of disagreements because they wanted the same type of marble on every single pillar," Ruffle complains. "I was trying to do the Roman Empire thing and show the size of your empire by the number of different types of material you can have in one place."
Treaty Port finally fully opened in 2009.
Despite the worst winter for 60 years in 2010, which reduced the yield to 9 tons instead of the predicted 50 to 60, interest is growing in the Brit's folly.
Situated closer to Shanghai and Beijing than many other Chinese vineyards, and less than an hour from Yantai airport, the castle is becoming popular with foreign companies as well as Chinese clients.
"Party officials want to entertain foreigners, so they want to know about different wines," says Ruffle. "But they're also very proud of being Chinese, so the fact that this is Chinese wine is a bonus."
The one-time "ignoramus" now brims with advice for vintners on the best balance to suit the Chinese palette and cuisine.
"Everyone says the Chinese like Bordeaux," Ruffle says. "But if you eat Kung Po or something then you can't actually taste Bordeaux because the flavor's too strong. I think the ones to go for are sweeter wines."
While all Treaty Port's current vintages are drier, a "Treaty Port port" is currently in prototype stage, and Ruffle also sells sweet imports like a 2008 Banyuls.
You only have to see the man, the castle and the wine to realize that Treaty Port is the product of an eccentric flight of fancy. But thanks to the attentive, deeply dedicated staff and unexpectedly homey quirks, like the books in the library that come from Ruffle's daughter's own collection, a feeling of warmth shines through the gimmick.
The wine is "decent" enough, but the castle itself is the real "gude kuche".
Ruffle has great plans for Treaty Port. He now hosts monthly events, from firework displays to lavish Burns' Nights, as the story of Sir James gets more elaborate. Ruffle has even, on occasion, donned a ruff and tights, and an "ancestor" bearing striking resemblance to him features in one of the castle's murals.
"Anywhere else in the world, you'd say you're going to make the best wine and it would be impossible, because the best is already there," Ruffle declares. "But in China, I can say I'm genuinely going to make the best wine and it's not impossible."
You can contact the writer at sundayed@chinadaily.com.cn.
(China Daily 10/30/2011 page13)