She puts trust in education
Updated: 2011-09-25 07:57
By Tan Yingzi (China Daily)
| | | | | | | | | |
| --- | --- | --- | --- | --- | --- | --- | --- | --- |
|   | | Print | | Mail | | Large Medium  Small | 分享按钮 | 0 |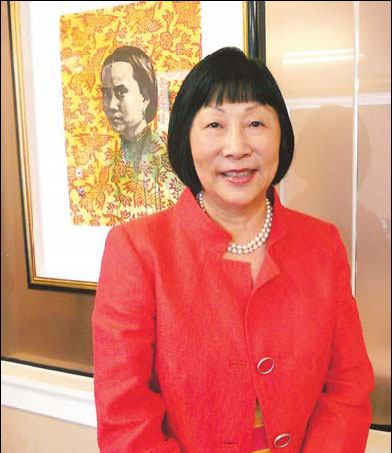 Julia Chang Bloch envisions education as the key to building a bridge between the United States and China. Tan Yingzi / China Daily
Do Chinese people really know more about America than Americans know about China?
"Chinese people always say so, but it is only true to some point," says Ambassador Julia Chang Bloch, President of US-China Education Trust (USCET), in an interview with China Daily in her office on K Street in Washington, DC.
Compared to the American general public, the ordinary Chinese know more about America, she explains. However, there is a twist.
"American experts on China know more about China than Chinese experts know about America. And Chinese people don't understand American domestic politics."
That is why the accomplished Chinese-American diplomat envisioned education as the key to building mutual understanding between the United States and China when she founded USCET in 1998.
USCET is one of the few organizations involved in US-China relations that offer Chinese educators and students a chance to learn about American society and values.
USCET also supports President Barack Obama's "100,000 Strong" Initiative that aims to increase dramatically the number and "diversify the composition" of US students studying in China.
USCET provides grants to US universities to encourage students to study in China. The Chinese government also strongly supports the initiative and has committed 10,000 "Bridge Scholarships" for US students to study in China.
Born in Yantai, Shandong province, Bloch has a beautiful Chinese name: Zhang Zhi-xiang, which means fragrance of the Zhang family.
Her father Chang Fuyun was the first Chinese graduate from Harvard Law School in 1917 and one of republican China's most respected government officials.
Maybe because of the family education from her mother, a lady from cosmopolitan Shanghai, Bloch has very good taste in fashion and always appears classic and graceful with her signature bob hair.
She left China with her family at the age of 9 in 1951 and settled in San Francisco. The little girl immediately took to the carefree life of the West Coast and thrived in her new country.
She earned a bachelor's degree in communications and public policy from the University of California, Berkeley, and a master's in government and East Asian regional studies from Harvard.
After working in the Senate and other civil service positions, she became the first Asian-American to serve as a US ambassador (Nepal, 1989-93). Then she moved to the corporate sector to become the group executive vice-president at the Bank of America. In 1996, she shifted to philanthropy, serving as president and CEO of the US-Japan Foundation.
"In all of my professional life, I have not been able to do anything related to China until in 1998, when Beida (Peking University) invited me to teach there," she says.
China's top university asked the ambassador to help it revitalize its American Studies Center and she became its executive vice-chairman. "In 1998, China was opening and growing, so I wanted the opportunity to see for myself what China was like today and to make up (for) many years' (of) no contact."
Bloch was impressed by the smart and diligent students at Peking University as well as the face-lifting transformation in China.
She and her husband Stuart Marshall Bloch stayed at Peking Hotel, the only hotel open to non-Chinese, and "you could hear the bells (of the bicycles) in the room."
At Peking University, Bloch works to expand the capacity of American studies on Chinese campuses. This month, USCET will partner with Beijing University of Foreign Studies for a faculty training program to strengthen the knowledge and skills of Chinese professors who teach American Studies.
In China, the Ministry of Education requires all universities and colleges that provide English language majors to teach American Studies, which means almost every higher education institution in China teaches about the US.
"American Studies is quite popular on Chinese campuses, but the quality varies and it is still developing," she says.
She finds that China's American Studies is strong in instructing about US-China relations, or the political side, but inadequate in the American social and cultural areas.
"You cannot understand US-China relations if you don't really understand America," she says.
There is one subject in which Chinese experts on American studies are "head and shoulders above" their US counterparts: language.
"Even our top American experts on China, most of them don't really know Chinese that well. They rely on research assistants," she says. "That's a real problem, but it's getting better."
Language is also the biggest hurdle for the 69-year-old ambassador, whose Chinese, as she says, remains at the level of a 9-year-old girl.
"My greatest regret is I forgot my Chinese. If I were a young girl, I would study Chinese again."
You can contact the writer at tanyingzi@chinadily.com.cn.
China Daily
(China Daily 09/25/2011 page6)