A Beatle plunges deep into ballet
Updated: 2011-09-18 07:11
By Jon Pareles (The New York Times)
| | | | | | | | | |
| --- | --- | --- | --- | --- | --- | --- | --- | --- |
|   | | Print | | Mail | | Large Medium  Small | 分享按钮 | 0 |
The composer strolled into rehearsal at the New York City Ballet late last month to see for the first time what the choreographer Peter Martins had made of his score, "Ocean's Kingdom."
At the end of the rehearsal the composer leaped to his feet, exclaiming, "Whoo!" The composer is the former Beatle Paul McCartney; this is his first ballet. He has taken part in everything: story, sets, costumes, even elements of the dance itself.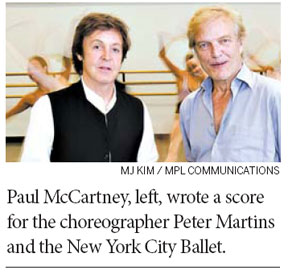 "The great thing for me was I never worked like this before," Mr. McCartney said afterward. "One of the reasons I do this is to have new experiences in my life."
City Ballet has often commissioned new scores, but the composer's role is generally more limited.
"Ocean's Kingdom" is the centerpiece of the City Ballet's season. Its opening, on September 22, is the company's annual gala. Mr. McCartney's name and music are likely to draw audiences that are not ballet regulars.
The production is budgeted at $800,000, said Katherine E. Brown, City Ballet's executive director, "not really out of proportion for its size and scope." Mr. McCartney "donated his services," Ms. Brown said, and his daughter Stella McCartney, who designed the costumes, made "her resources available at a very reduced level."
For City Ballet, Ms. Brown said, "it's an investment in repertory building and in audience building." The annual gala, which has previously raised a little more than $2million, has already drawn more than $3.7million this year. Ticket sales for the production are strong, Ms. Brown said, and it has drawn new donors.
"Ocean's Kingdom" is an old-fashioned story ballet: a tuneful, tonal, orchestral work that accompanies a love story. It illustrates the adventures of King Ocean's daughter, Honorata, and the earthly royalty who both desire her: King Terra and his brother, Prince Stone. Mr. McCartney's music harks back to Tchaikovsky, Elgar and Vaughan Williams, with a touch of Gershwin.
He wrote the entire story line, and made paintings to suggest the backdrop for each act. He suggested that the costume design include tattoos for the bad guys. "I'm used to doing, and being involved in, many elements in the things I do," Mr. McCartney said.
Mr. Martins recalled telling Mr. McCartney: "'The only thing you haven't done is the choreography.'"
In fact, Mr. Martins revealed, one day while he and Mr. McCartney were listening to the ballet's music, "You stood up, and you went like this" - he assumed a dramatic stance - "and I thought, well that's a great image. And I threw it in the ballet."
The collaboration began when Mr. McCartney met Mr. Martins in March 2010 at a fund-raiser for the School of American Ballet. Mr. Martins later asked if Mr. McCartney, who has released four classical albums since 1991, would be interested in writing ballet music.
Mr. McCartney had already written a few minutes of rippling, oceanic music for the French filmmaker Jacques Perrin; it had gone unused. "I thought, what do I know about ballet? What the average Joe knows - 'Swan Lake,' 'Nutcracker Suite.' Well, I thought there's no point in me doing that or trying to do that, because it's been done by Tchaikovsky better than I might ever be able to do it," he said. "I just thought, 'Well, what would I like to see?'"
Mr. McCartney, who does not read or write music notation, uses a computer program that simulates orchestral instruments. After writing the music he went through the piece with an engineer, identifying points that could suggest characters and plot. "It's either going to be a load of rubbish, or it might start to have a hint of a story," he said. "So I just got it and blocked it out."
It's an accessible fairy tale with a glimmer of environmentalism: "There's this ecological thing of the purity of the oceans, the destruction and pollution by the earth people, and who will win," he said.
Throughout the collaboration with Mr. Martins, Mr. McCartney said, "he could see I was having loads of ideas." He grinned. "I was kind of hoping he wouldn't say, 'No, no, that's O.K., thanks, enough.'"
The New York Times
(China Daily 09/18/2011 page11)