Here to stay
Updated: 2011-08-07 07:41
By Mike Peters (China Daily)
| | | | | | | | | |
| --- | --- | --- | --- | --- | --- | --- | --- | --- |
|   | | Print | | Mail | | Large Medium  Small | 分享按钮 | 0 |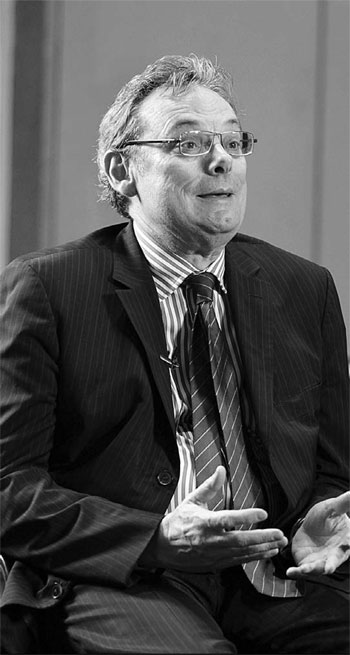 Geoff Raby says he can't paint, draw or sing himself, but he cherishs his friendships with China's contemporary artists that go back to the 1980s. Wu Chuanjing / Chinadaily.com.cn
Related video: Exclusive interview with Geoff Raby
Australia's well-traveled ambassador is retiring but isn't going anywhere. He tells Mike Peters his plans for a consulting business - and a book about baijiu.
Geoff Raby's last day in charge at the Australian embassy started at 4:30 am on Friday, with a slew of e-mails and phone calls as two banks haggled for his services. A major law firm Down Under, Corrs Chambers Westgarth, was issuing a press release announcing that Raby would co-chair its China business group.
Soon after the embassy opened, the employees assembled to say farewell at a morning tea. By 11, he was preparing for the first media interview of the day, a video chat with ChinaDaily.com.
"I'm not the retiring type, at least not yet," laughs Raby, who is the longest-serving envoy from his country to China and has journeyed to all China's provinces on official business - and a few holidays. "It's been a great four and a half years. I'm very pleased and satisfied with my time here."
"But China's such an interesting and exciting place, and a number of opportunities came my way, and I decided to end 27 years of public service and set up my own business in China. I'm going to, as they say, jump into the ocean and set up a whole new career, so I'm looking forward to the next stage of my professional development very much."
Among ambassadors, Raby was a classic "old China hand", having been posted twice to Beijing, as the embassy economist the first time in 1986. But he shrugs off that notion, saying that China has never lost the capacity to surprise him.
"People say to me, 'you must really know China', and I say to them, well, there are many, many Chinas, and some of them I'm still discovering.
"That's inevitable - as we know, it's a huge country, massive population, great regional diversity, multi-ethnic, extremely long continuous history, put that all together and it's a very dynamic, ever-unfolding, ever-interesting place to be."
The most impressive things he's seen in his China years?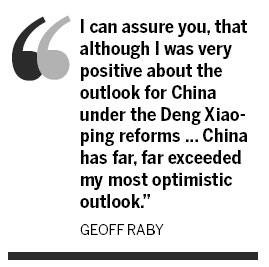 "Number one, the tremendous change in people's living standards. In the 1980s, I was often regarded as being a bit nave and over optimistic about China's outlook. But I can assure you, that although I was very positive about the outlook for China under the Deng Xiaoping reforms which were only a few years old in those days, China has far, far exceeded my most optimistic outlook.
"The other great change, of course, is that the barriers between foreigners and local Chinese have been removed. When I was here in the '80s, we almost lived in a world separate from all of the Chinese, and for that to be removed in the way it has, and the openness of the society, the ability of the people to move freely around the country, to choose their own jobs, to choose where they live - this is just a completely different world than the 1980s."
Raby says he was very lucky in the '80s to be involved in the early Chinese contemporary art movement - the one area where it was possible to build relationships with local Chinese.
"Some of the young artists from those days are now quite famous and established, but many became my friends and many found their way to Australia at some stage to study or to live, and most of them are now back and living in Beijing. And through them, I was introduced to this wonderful world of contemporary Chinese art, and so that does fill up a fair bit of my time.
"I do a fair bit of collecting, I'm not a major collector, but I have an interest, I love to visit studios and I also love to go out eating and drinking with my artist friends." He has not taken up a paintbrush himself, though.
"I have no talents. I can neither paint, draw, nor sing - that's why I don't like karaoke or KTV. I can't dance. My writing's okay, and I do hope to find time to put some thoughts down in a book or two."
One of those books is likely to be about baijiu, the white liquor beloved in China that is about 50 percent alcohol by volume.
"I'd like to be the first lao wai to write a book on baijiu and introduce it to the outside world," he says. "Last week I was visiting Jiuliang Ye, (one of) the biggest baijiu producers in China. That's in a very small place called Lejun in Sichuan.
"It turns out to be a beautiful town, and it's absolutely the beginning of the Yangtze, right at the confluence of two rivers. It's 300 km upstream from Chongqing. I didn't know it existed - I went there because of the baijiu factory and just discovered yet another amazing place right at the edge of the mountains that eventually build up to the Tibetan plateau."
While ambassador, Raby sometimes chastised his own country for not engaging enough with China. He was often described in Australian media as "outspoken".
He doesn't buy into that label, but says he thinks "an important part of an ambassador's job is public diplomacy, and to have credibility, you have to, I think, have some of your own thoughts and not just be seen solely as a mouthpiece of the government".
Raby says his country was once "very much ahead of the world in understanding China's likely trajectory of economic development, and its implications for Australia, and then put the resources in to support that through a very big diplomatic effort
"Now, quite frankly, the rest of the world has worked it out as well and the rest of the world has rushed here. And I think we've been a bit complacent," he says. "We haven't increased our diplomatic footprint in China since 1995. That's something I've talked about publicly and you can imagine I've talked about it privately.
"One of the things we can do is help Australians understand how significant the relationship with China is.
"China is not only Australia's largest trading partner - that happened some time ago - China is our largest export market. It takes over 25.5 percent of all our exports. We are dependent on China more than any other country in the world. So what you have is a very close, interdependent relationship.
"Australians, especially younger people, I think, need to have a clearer view that their future is going to be shaped very much by what happens in China. I think once they understand that, we'll see a much bigger increase in Australians studying Chinese, for example."

His own language skills are enough to get by socially, but he'd like to improve.
"I keep studying it, and that's another reason for staying here," he says. "Hopefully, I'll have a little more time on my hands and will be able to put more time to my Chinese study."
You can contact the writer at michaelpeters@chinadaily.com.cn.
(China Daily 08/07/2011 page5)