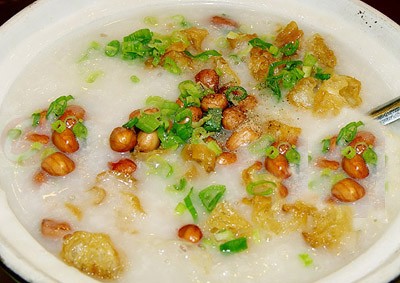 Sampan porridge is a traditional rice-based dish, unique to Guangzhou and with a long and colourful history. As one of the most popular Cantonese snacks, it is popular for its fresh and sweet taste.
It is commonly known as Tingzai Zhou in Guangzhou because the soup is served on sampans that plied Liwan Lake on the western outskirts of the city and its fresh taste is imbued with the spirit of the water villages of southern China. 
In the past, Litchi Bay in the western suburb of Guangzhou was a popular gathering place for men of letters and refined scholars at dusk in summer. While cruising the river, they were served with Sampan porridge (literally Boat Porridge) prepared on dedicated boats. The owners of the boats delivered bowls upon bowls of Sampan porridge on the shore and to tourist boats on the river. Over the time Sampan Porridge has become the most famous porridge in Xiguan.
Recipe:
Major ingredients include pork, fresh river shrimps or sliced fish, fried peanuts, sliced fried egg, cut-deep-fries dough sticks etc. This porridge is often prepared for immediate consumption and is best when it's steaming hot and very fragrant, leaving a lingering taste in the mouth.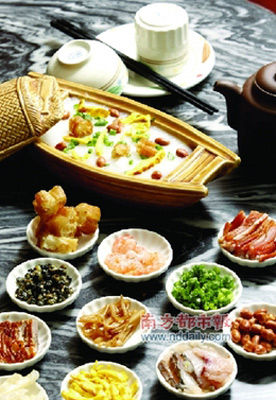 Originally the porridge used fresh river shrimp and fish fillet as its main flavours. Later, jellyfish, fried peanut kernels, shallots and ginger were added to the mix. The porridge is boiled together with all the ingredients just before it is served.
Whether eaten in an up-market restaurant or at a street-side stall while taking in the atmosphere of the city, you're sure to enjoy the great taste of Sampan porridge.
Recommended Places
Chentian Ji restaurant
Located in Baohua Road, Chentian Ji restaurant is an old restaurant dating back to 1980s. Only three kinds of snacks are provided here. Shunde Fish Skin, Sampan Congee and Steamed Rice Flour Rolls.
Fish Skin: 20 RMB
Sampan Congee: 6 RMB
Steamed Rice Flour Rolls: 2 RMB
Add: Shiwu Fu Sanxiang, Baohua Road, Liwan District, Guangzhou
Tel: 020-81828774
Transportation: Bus No. 114, 123, 113, 112, 243, 121A
Ji Ji Restaurant
Ji Ji restaurant is popular for its cheap price and quiet dining environment. Sampan Congee is served on shuttling sampans.
Add: Huangpu port, Shiji village, Xingang Dong Road, Baozhou Street, Haizhu District, Guangzhou
Transportation:
Take Bus No 229 and get off at Shiji Village Station
Take metro line 4 and get off at Wan Sheng Wei Station (Exit B)