CELL PHONE SKILLS: Paul Annacone was smart enough to coach Pete Sampras and Roger Federer to Grand Slam titles, but the player he is currently working with, Sloane Stephens, rolls her eyes when it comes to Annacone's cell phone skills.
"He doesn't know what he's doing," the 15th-seeded American said after her first-round win on Tuesday.
Injecting a touch of hyperbole, Stephens explained Annacone set up his new phone with oversized lettering, making one word fill the entire screen.
"It's the most ridiculous thing I've ever seen in my life," Stephens said with a smile.
"He doesn't know how to get on wi-fi or anything, so in Australia he had like a $2,000 phone bill, because he was on Twitter. He had his data roaming on, or whatever, instead of being on wi-fi.
"I'm like, 'dude! ' because he's sending Twitter pictures off his data. I'm like, 'That is not ideal'."
COFFEE BREAK: Staying focused is hard enough, but Jelena Jankovic said on Tuesday she had trouble just staying awake before her opening match at the French Open.
Because of the rain, the sixth-seeded Serb had to wait nearly all day to start her match on Monday evening. She quickly lost the first set before play was suspended by darkness.
"I had quite a lot of coffee, and my eyes - I needed to be alert and just ready to go - were quite active," Jankovic said after action resumed and she finally beat Sharon Fichman of Canada. "My opponent was way more kind of hyper and playing so well. She was all over the place. I was like in slow motion."
The overnight break helped Jankovic just enough to win 5-7, 6-1, 6-3.
"Today was a little bit better," she said. "I needed to start off very well today and hopefully win that third set, so overall I had a lot of things going on in my mind."
YEA OR NAY: David Ferrer had to make a choice, and he picked the French Open.
The fifth-seeded Spaniard didn't submit a ballot in last weekend's European elections because he was in Paris getting ready for Roland Garros, where he was the runner-up a year ago.
"But I wanted to vote," Ferrer said after winning on Tuesday. "I read the papers, and I'm interested in policy and politics."
Spain was among the European countries hardest hit by the financial crisis, and Ferrer said everyone should do their part to help in the recovery.
"I think all of us should contribute, even though it might be in a minimal way, to improve the situation and do good for all people," Ferrer said. "We have to fight for our ideas."
TOUGH LOVE: After a difficult year on tour, Bernard Tomic is happy to have his father back by his side.
John Tomic, who is also Bernard's coach, recently completed a one-year suspension from the men's tour for head-butting his son's hitting partner in May 2013. In September he was convicted of assault by a Spanish court and given a suspended eight-month jail sentence.
"It's good to have him back," the younger Tomic said after losing to No 12 Richard Gasquet 6-2, 6-1, 7-5 on Tuesday.
"We started a long journey together, my dad and myself," the Australian said. "We didn't have nothing, so my dad is everything to me. He knows everything about me. It's stupid for me to lose someone like that in my life that brought me to the level where I'm at."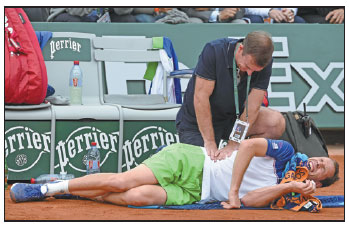 France's Michael Llodra gets medical assistance during his French Open match against Spain's Fernando Verdasco on Tuesday. Verdasco won 6-2, 7-6 (4), 7-6 (3). Pascal Guyot / Agence France-presse
(China Daily 05/29/2014 page24)