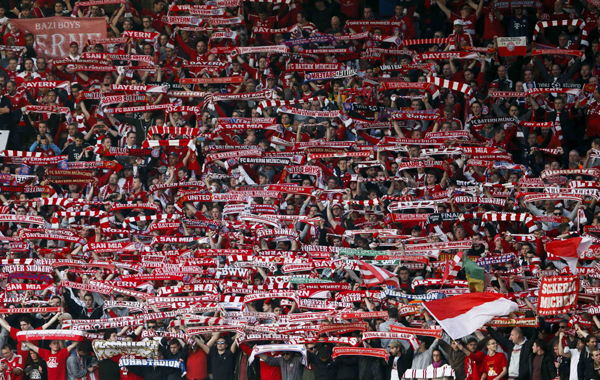 Bayern Munich's supporters cheer during their Champions League quarterfinal first leg soccer match against Manchester United at Old Trafford in Manchester, April 1, 2014. [Photo/Agencies]
Bayern Munich could be crowned Bundesliga champion this weekend after its 2-1 win at home to Bayer Leverkusen on Saturday left it 23 points clear in the standings.
The European champion will be confirmed as German champion for the 24th time if it wins at Mainz and rival Dortmund and Schalke both draw.
Goals by Mario Mandzukic and Bastian Schweinsteiger saw Bayern enjoy its 17th-straight league win and extend its record unbeaten Bundesliga run to 50 matches.
Former Germany striker Stefan Kiessling gave Leverkusen a consolation goal when he headed home just before the final whistle.
"We will be champions, but we still have to collect a few points first," said Bayern coach Pep Guardiola.
"It's not important when it happens, just that we keep playing well."
The victory capped arguably the most turbulent week in Bayern's history after ex-president Uli Hoeness resigned on Friday, 24 hours after being convicted of tax fraud in a case that captured national headliens.
He was sentenced to three and a half years by Munich's regional court for cheating the state out of 28.5 million euros ($39.5 million) in unpaid taxes.
"I haven't been at the club that long, only about nine months, but I have seen how important Uli Hoeness is for Bayern," said Guardiola.
"He has admitted to his mistakes and I hope we can keep putting in good performances in his absence and that he will come back to us."
Leverkusen was the last German team to beat Bayern, back in October 2012, but Sami Hyypia's side offered little resistance en route to its seventh defeat in eight matches.
Bayern's relentless march to the title was helped after second-place Borussia Dortmund suffered a 2-1 defeat at home to Borussia Moenchengladbach earlier on Saturday.