Tseng's success and more new events boost official's confidence
BEIJING - Chinese Golf Association (CGA) chief Zhang Xiaoning has fond memories of playing with budding star Tseng Yani from Chinese Taipei a few years ago.
However, he did not expect the young woman would become world No 1 so quickly and now, at 22, be the youngest golfer - male or female - to win four major championships when on Sunday she ran away with the LPGA Championship.
Zhang is amazed and thrilled by her achievements. Moreover, he has become more confident and motivated as he believes some of the girls from the Chinese mainland are now playing as good as when he partnered Tseng.
"To be honest, when I played with her a few years ago she was playing well, but was not showing her great potential or a big advantage over other girls at her age," said Zhang on Tuesday during the launch of a new golf tournament - the Fangshan Changyang China Amateur Golf Championship, which will be held from Oct 12-16 at the Beijing California County Golf Club.
"Now, some of our amateurs are playing as good as her when she was an amateur. I believe women players from Chinese mainland have the potential to emulate her success in major tournaments."
Tseng turned professional in 2007, when she was 18 years old, and has continued to improve and impress ever since; winning 16 pro titles so far.
She joined LPGA Tour in 2008 and has eight of those titles under her belt.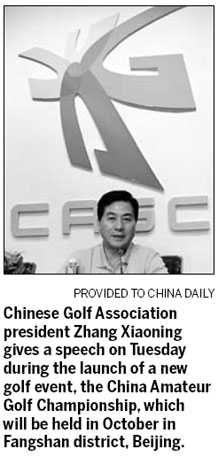 Zhang said hard work, mental strength and high-level coaches were needed if any of the Chinese amateurs wanted to play on the LPGA circuit after turning pro.
He said golf's inclusion at the 2016 Olympic gave his ambitions a huge boost.
"Thanks to the Olympics, golf is now developing in two ways. First, we have been put it in the state-support system, which means more financial support and more competitive chances for national team players. Second, more companies and greater public support have joined in to develop the sport's marketing environment, which means more golf events will be established in China."
China's tennis success, which was highlighted by Li Na's historic win at the French Open, was the result of similar development.
"This period is very important for golf's future. Just like tennis years ago, our players must go out and play as many competitions as possible and earn as many points as possible."
To achieve that goal, the CGA set up the national team in May and invited foreign coaches to sharpen their techniques as well as their physical and mental states.
"Now, we have coaches from the United States, Australia, New Zealand and Canada. We hope, after five years, some of (the players) will become high-level pro golfers."
However, Zhang admitted China remains short of pro players - especially in the women's field - and needs to set up more competitions.
"We have less than 100 professional women golfers compared to South Korea's more than 6,000. Also, we still need more high-level tournaments to give young players competitive chances."
Zhang said the establishment of the China Amateur Golf Championship was an important move as it will feature 20 international women players and 10 men players from powerhouses like the US, South Korea and Australia.
"Before this championship, we only had three major amateur tournaments which higher-level international players could play in. We all know the domestic amateur tour is not enough to push players to a much higher level. Only by competing against better international players as many times as possible can our players improve more quickly, and then play in bigger international tournaments one day."
China Daily