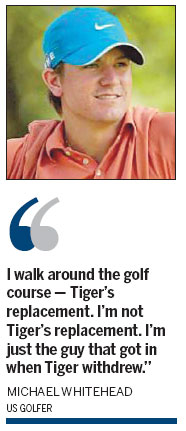 As far as Michael Whitehead is concerned, no one can replace Tiger Woods, even though that's exactly what he has done this week at the 111th US Open golf championship.
Whitehead, a 23-year-old Texan who is getting married next month, finished as an alternate in US Open sectional qualifying last week in Dallas, but took a spot in the field when Woods withdrew a week ago due to left leg injuries.
"Everybody keeps calling me Tiger's replacement," Whitehead said. "I walk around the golf course - Tiger's replacement. I'm not Tiger's replacement. I'm just the guy that got in when Tiger withdrew."
Woods has been Whitehead's favorite golfer since he was a child and the 14-time major champion's infamous sex scandal or his ongoing 20-month winless streak have not shaken Whitehead's faith that Woods is irreplacable.
"He still is (my favorite). He's awesome to watch," Whitehead said. "He hits shots that no one else can hit."
Woods pulled out on the advice of doctors because of injuries to his left knee and Achilles tendon suffered in April at the Masters and aggravated last month at the Players Championship, where he pulled out after only nine holes.
"It's time for me to listen to my doctors and focus on the future," Woods said last week. "I was hopeful that I could play, but if I did, I risk further damage to my left leg."
That opened the door to the US Open to Whitehead, the only loser in a three-man playoff for two US Open berths.
"I'm glad he listened to his doctor this time," Whitehead said.
Now Whitehead finds himself listening to the same refrain over and over.
"As I walk by from signing autographs - I don't know why they want my autograph anyway - someone down the line will whisper, 'That's Tiger's replacement'," Whitehead said.
"It's too many (people) to bother to say, 'No, I'm not Tiger's replacement,' but that goes through my head."
Whitehead, a former captain of his collegiate golf team at Rice University, has been ribbed by other collegian qualifiers in the 156-man US Open lineup.
Agence France-Presse