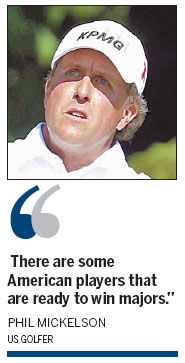 For the first time since 1994, no American golfer holds a major title, but four-time major winner Phil Mickelson of the United States warns rivals not to write off US players just yet.
"Although international golf has really taken off, American golf is still in very good shape," Mickelson said. "There are some American players that are ready to win majors. I think there are a lot of international players as well."
Should no American capture the crown at the 111th US Open that starts on Thursday at Congressional Country Club, it will mark the longest title drought by the nation which hosts three of the four elite championships in the sport.
The only previous time Americans had none of the four major crowns was 17 years ago when Spain's Jose Maria Olazabal took the Masters, South African Ernie Els won the US Open and Zimbabwe's Nick Price won the British Open and PGA Championship.
"It has been quite a while," Els said. "Everything happens in cycles, and I can see it happening again now."
Els points to the glory days of Nick Faldo, Seve Ballesteros and Ian Woosnam and the current world rankings, which have England's Luke Donald as World No 1, England's Lee Westwood second, Germany's Martin Kaymer in third and Northern Ireland's Graeme McDowell as the defending US Open champion.
"Back in the early '90s, Europe was dominating like they are dominating now on the world rankings. You had Nick Faldo, Bernhard Langer, Woosie (Ian Woosnam), Seve, those kind of guys, and now you've got the same: Luke Donald and Lee Westwood and Martin Kaymer and Graeme McDowell and so forth. They have definitely got the upper hand at the moment and it will probably change again in the future."
Mickelson, whose third career Masters triumph last year was the most recent major win by an American, sees a host of young US talent pushing for a major breakthrough that could come this weekend.
Agence France-Presse