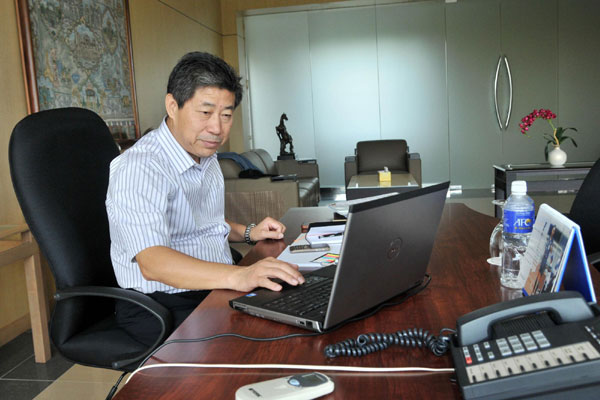 AFC's acting president Zhang Jilong works at the AFC headquarter in Kuala Lumpur, the capital of Malaysia, June 13, 2011. [Photo/Xinhua]
KUALA LUMPUR - Asian soccer federations should join hands to improve the sport in the region, Zhang Jilong said after assuming office as the acting president of the Asian Football Confederation (AFC) on Monday.
China's Zhang took temporary charge in his capacity as AFC's senior vice-president after president Mohamed Bin Hammam was suspended by FIFA last month from all soccer activity following a corruption scandal.
"We are all united and focused on taking Asian football ahead. We have to work together to meet the challenges and ensure that Asian football continues to move forward," Zhang said in a message to the AFC staff.
First working day as acting AFC chief 
Zhang Jilong had a clear idea of his responsibility - to unite and boost the standards of Asian football, which is recently plagued by a series of scandals - on the first working day as AFC's acting president... [Full story]
Zhang vows to unite and boost Asian football
Zhang Jilong said that he intends to help Asian football bond and lift its teams' standards after he assumed duty as AFC's acting president... [Full story]
Profile of Acting Asian football chief Zhang Jilong
Position: Asian Football Association acting president
Date and Place of Birth: Born February 1952, in Yantai, a coastal city in East China's Shandong province;
Education: English language major at the Beijing International Studies University, Beijing, China;
Key Facts:
May 31, 2011
As the most senior vice-president, Zhang Jilong is to take charge of the Asian Football Confederation and exercise the competence of AFC president in the absence of former head Mohammad bin Hammam, who was suspended over FIFA bribery allegations.
2009-2011
Zhang Jilong has been prominent in AFC for many years; is currently serving as AFC's most senior vice-president, Chairman of AFC Finance Committee, and AFC Executive Committee members.
July 3, 2009
Zhang was confirmed as the successor to Wei Jizhong, president of the International Volleyball Federation, as chairman of the Sports Committee for the Olympic Council of Asia (OCA) at the 28th OCA General Assembly; promoted as the OCA executive committee member.
January 2009
Zhang was assigned as director of the China International Sports Exchange Center.
November 2008
Zhang was appointed deputy director of the Chinese Football Administration Center.
2008
Zhang was the sports minister of the organizing committee for the 2008 Beijing Olympic Games; also a member of the 2006 FIFA World Cup Organizing Committee.
1978
Zhang was in charge of football-related foreign affairs after returning from Nigeria after a three-year aid program; was appointed deputy chairman of the Chinese Football Association and deputy director of the Chinese Football Administration Center under the General Administration of Sport of China.