Derrick Rose and the Chicago Bulls drew first blood in their NBA semi-final series by routing the Miami Heat 103-82 behind Rose's 28 points on Sunday.
Luol Deng added 21 points and the Bulls shut down the Heat's star cast of LeBron James and Dwyane Wade to take a 1-0 lead in their best-of-seven Eastern Conference final.
"We got a little bit of a cushion," said Bulls coach Tom Thibodeau. "Then our defense picked up."
James was held to just 15 points and Wade finished with 18. Chris Bosh led the Heat with 30 points.
"Dwyane and LeBron are going to create a lot of attention," Bosh said. "This is a good defensive team. They're going to make them distributors. We have to look at where we fell short as a team for Game 1 and come back with a better approach."
Chicago pulled away in the second half, going on a 10-0 run in the third and outscoring the Heat 46-24 over the final 19 minutes.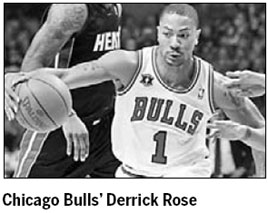 The Heat will have a chance to try and level the series in Game 2 on Wednesday in Chicago.
Chicago fans chanted "over-rated" and "beat the Heat" in the final minutes referring to Miami's big scoring trio James, Bosh and Wade.
"He missed shots. He had an off night," Deng said of guarding James.
Deng held James to just five-of-15 shooting. Deng also had four three pointers, four steals and grabbed seven rebounds.
"You play defense. You play defense hard and the shot goes up and they get an offensive rebound, kick it out for a three or get a layup or a dunk," James said. "Those are demoralizing for a defensive team. We've got to figure out a way to clean that up."
League MVP Rose rallied to drain three three pointers after committing three turnovers early in the contest.
Thibodeau took Rose out of the game with just more than two minutes left with the Bulls ahead by 19 points. France's Joakim Noah finished with 14 boards for the Bulls who outrebounded Miami 45-33 on the night.
"I never knew that a national anthem could get me excited before a game but it was unbelievable," Noah said.
Miami had a one-point lead with 7 1/2 minutes left in the third quarter but it couldn't hold on.
"We took it on the chin," said Heat coach Erik Spoelstra. "We have to get better."
AFP