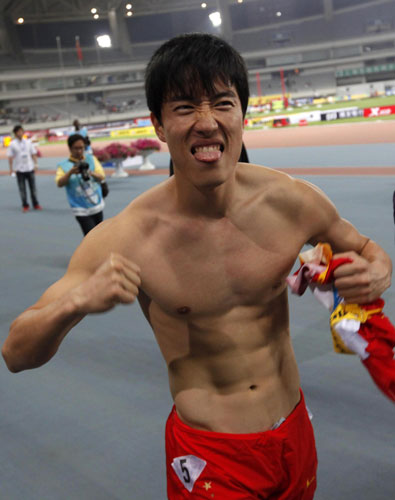 Liu Xiang reacts after winning the 110 metres hurdles at the 2011 Shanghai Golden Grand Prix, May 15, 2011. [Photo/Agencies]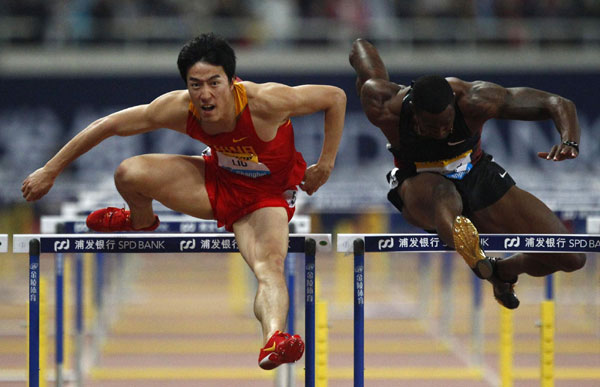 Liu Xiang (L) of China and David Olivier of the US competes during the 110 metres hurdles at the 2011 Dunlop Shanghai Golden Grand Prix, May 15, 2011. [Photo/Agencies]
More stories about Liu Xiang:
winning 110m hurdles in Shanghai; eyeing gold at London;new starting technique
SHANGHAI - China's former Olympic and world 110-metre hurdles champion Liu Xiang ended American David Oliver's winning streak of 18 finals at the Shanghai Diamond League meeting on Sunday.
Liu's time of 13.07 seconds was one of five year's bests set at the second Diamond League meeting of the season.
His new starting technique of seven rather than eight steps to the first hurdle paid off as he recorded a comfortable victory over the American record holder, who had been unbeaten since Aug 31, 2009.
"It felt great," Liu told reporters. "This is my first outdoor race of the season. I reacted the fastest from the blocks and my seven steps start worked very well for me.
"I am very, very satisfied with the time. I wasn't quite expecting it but I do not think Oliver ran his best. I think he looked a little bit nervous. He was not very relaxed."