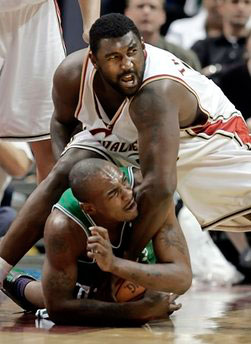 This April 19, 2005, file photo shows Cleveland Cavaliers' Robert Traylor (top), battling Boston Celtics' Justin Reed in Cleveland. [Photo/Agencies]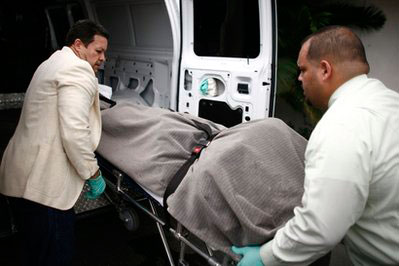 Funeral parlor workers carry the covered body of former NBA and University of Michigan basketball player Robert Traylor in Carolina, Puerto Rico, May 11, 2011. [Photo/Agencies]
SAN JUAN, Puerto Rico - Robert Traylor, the former NBA big man nicknamed "Tractor" because of his hulking frame, has died. He was 34.
Described as a "gentle giant" with a generous smile, Traylor played seven years in the NBA. He is perhaps most remembered, however, for his career at the University of Michigan, where he was a standout for three seasons.
Police in San Juan said Traylor was found dead Wednesday on the bedroom floor of his oceanfront apartment. Police and Traylor's team, the Bayamon Cowboys, said he had been missing for a few days and apparently died from a heart attack.
"He was a leader of the team," said Jose Carlos Perez, the Cowboys' manager. "He was very, very friendly. He got along very well with everyone. The fans loved him, idolized him."
Perez told The Associated Press that Traylor had been talking by phone to his wife in Chicago when the connection was suddenly cut off. She called team officials Wednesday and they checked on him, Perez said.
The 6-foot-8 (2.03 meters), 300-pound (136kg) Traylor was injured and had not been playing, the team said.
Traylor was drafted by the Dallas Mavericks with the sixth pick in 1998, but they traded his rights to Milwaukee in a major deal that sent Dirk Nowitzki to Dallas. Traylor played for the Bucks in the first two seasons of an NBA career that included stops in Cleveland, Charlotte and New Orleans.
"The entire Milwaukee Bucks organization is saddened by the news of Robert Traylor's death," the Bucks said in a statement. "Robert was a fierce competitor on the court who helped the Bucks reach the playoffs in each of his two seasons in Milwaukee.
"Off the court he was a gentle giant, displaying his smile and care, especially toward young people through his involvement in school visits and his work with the Special Olympics clinic."
Perez said Traylor's survivors include his wife and two sons.