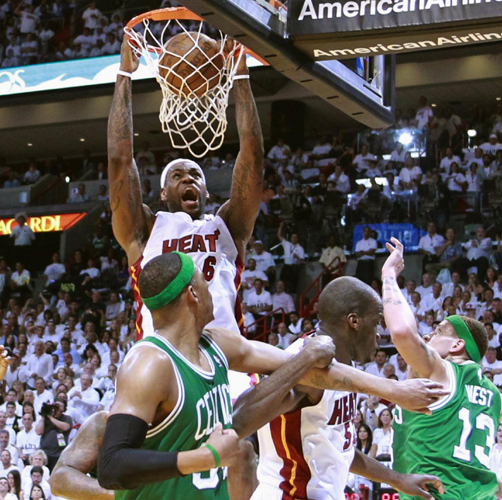 Miami Heat small forward LeBron James (above) dunks the ball over Boston Celtics defenders Paul Pierce (below left) and Delonte West in the second half of Game 2 of their NBA Eastern Conference basketball playoff series in Miami, May 3, 2011. [Photo/Agencies]
* James, Wade on fire for Heat
MIAMI - The Miami Heat piled the pressure on bruised and battered Boston by taking a 2-0 lead in their NBA playoff series with a 102-91 victory on Tuesday.
Related readings:


 With emotions running high, Heat top Celtics 99-90 in Game 1 


 Big 3 shine as Heat go forward


 Heat, Thunder win opening playoffs


 Heat, Bulls catch fire late, Blazers sting Mavericks
Quicker and more athletic than the veteran Celtics, who were hampered by a series of nagging injuries, the Heat again met the challenge of the defending Eastern Conference champions and have a commanding lead in the best-of-seven second-round series with Game Three set for Saturday in Boston.
In Miami, LeBron James took his turn to carry the load with 24 of his game-high 35 points coming in the second half, while Game One standout Dwyane Wade added 28.
"This is a great team we're going against right now," James told reporters. "We're playing as hard as we can defensively and just trying to wear them down throughout the course of the game."
"They made a run but we stuck to our principles and finally wore them down."
With the game tied 80-80 midway through the fourth, the Heat exploded with a 14-0 burst to put the contest out of reach.
Boston's Paul Pierce, who was ejected from the contentious series-opener with two technical fouls in the fourth quarter, returned from a strained left foot but the injury forced him off the court briefly in the first quarter.
Ray Allen also played with a bruised chest following a collision with James in the third.
Rajon Rondo led the way with 20 points and 12 assists for Boston who trailed by five points after both the second and third quarters.
The Celtics will have to regroup at home if they are to take down Miami's "Big Three", who were brought together in the off-season to challenge Boston's supremacy.
Chris Bosh, the Heat's final member of the triumvirate, finished with 17 points and 11 rebounds.