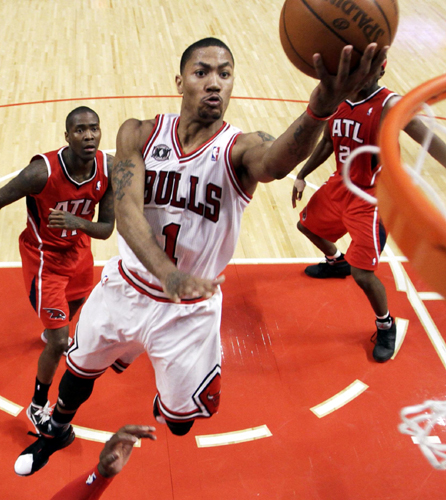 Chicago Bulls' Derrick Rose lays up against the Atlanta Hawks during the second half of Game 1 of their NBA Eastern Conference second round playoff basketball game in Chicago in this May 2, 2011 file photo. [Photo/Agencies]
* First Bulls player to win the award since 1998
CHICAGO - Chicago Bulls guard Derrick Rose ended LeBron James's two-year reign as the NBA's most valuable player on Tuesday when he became the youngest winner of the sport's highest individual honour.
Rose, who led the Bulls to the best record in the NBA this season, beat out perennial contenders James of the Miami Heat, Kobe Bryant of the Los Angeles Lakers and Dwight Howard of the Orlando Magic.
Related readings:


 Rose helps Bulls eliminate Pacers


 Rose's career-high 42 leads Bulls past Spurs


 Rose leads Bulls past Celtics
Rose's career-high 42 leads Bulls past Spurs
"I want to thank my team mates and the coaching staff," an emotional Rose said at a news conference where he accepted the award. "You all push me every single day making sure that I play hard and play with passion."
The 22-year-old All-Star, taken with the first overall pick in the 2008 NBA Draft, is the first Bulls player to capture the honour since Hall of Famer Michael Jordan claimed the last of his five MVP awards in 1998.
Rose received 1,182 points and 113 first-place votes from a panel of 120 sportswriters and broadcasters combined with fan balloting, the NBA said in a NBA statement.
Howard placed second with three first-place votes and 643 points, James was third with four first-place votes and 522 points while Bryant had one first-place vote and 428 points.
Rose averaged a career-high 25 points and 7.7 assists this season while guiding the Bulls to a 62-20 record that earned them the top seed in the NBA playoffs.
When Rose arrived at the Bulls' training camp ahead of the 2010-11 season he openly wondered why he could not be the league's MVP, even though he did not receive one vote for the award last year.
"I wasn't trying to be cocky at all," said Rose. "I knew that I put a lot of hard work in in the summer, in the offseason and I just wanted to push myself, and that was about it."
The Bulls, who lost the opening game of their best-of-seven Eastern Conference semi-final to the Atlanta Hawks on Monday, resume their series on Wednesday in Chicago.