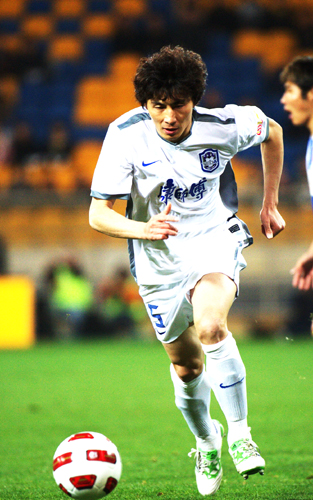 Former China's international captain Li Weifeng comes back home to play for Tianjin Teda this year and is then called up by the national team after two successful seasons in South Korea. [Photo Provided to China Daily]

Leaving a controversial past behind, a more mature Li Weifeng comes back home and puts on an international uniform again, Tang Zhe reports
Almost three years ago, Li Weifeng was thrown out of the Chinese national soccer team for hitting players, frequently earning red cards and allegedly not getting on with coaches and officials.
Playing with a distinct personality and sometimes a bad tamper, the controversial centerback was labeled by some media and fans as "Qiu Ba" (soccer bully). In 2009, he moved to South Korea to play for the Suwon Bluewings.
In his two seasons with Bluewings, Li was a more mature player, proving his ability in defense in the Korean league and AFC Champions League.
"A few years ago, I had no idea what I was really searching for, like many young people," said the now 32-year-old.
"I did not take my career and life very seriously and lost something during that time. I think it was a period of development. You can mature after learning from your mistakes."
His change earned rewards immediately.
Li returned home early this year and was signed in a big deal by Chinese Super League club Tianjin Teda.
Meanwhile, after a 33-month absence from the national team, he was called up to play again in the friendly against New Zealand in Wuhan last month.
The former captain is now expecting to be part of the squad for the 2014 World Cup preliminary, which kicks off in late June, although whether he can hold a spot in the young lineup when head coach Gao Hongbo has all his players available remains to be seen.
"I didn't feel strange on the pitch, and it's not hard for me to fit myself into the team," Li said after the friendly against New Zealand at Wuhan Sports Center Stadium on March 25, where the game ended in a 1-1 draw.
"What we should do is to speak less and work harder," said Li, the first-choice back in China's first and only appearance in the World Cup in 2002, when the team finished without a win or a goal.
"We realized our World Cup dream 10 years ago, and of course we hope to do better 10 years later," he said. "But on the way to success we should ask ourselves how much effort we have made."
China's young generation finished the Qatar Asian Cup with a disappointing group-stage elimination, which cast a shadow over the squad's prospects for the 2014 World Cup.
It also led fans' to expect the return of experienced players like Li and former Charlton Athletic and Celtic midfielder Zheng Zhi.
But some thought national team boss Gao recalled senior players under pressure from the Chinese Football Association (CFA).
Gao brushed aside the speculation.
"Do you want to increase the team's average age to 40?" the 45-year-old coach said in late February. "In my eyes, the national team's age structure is quite reasonable."
While Li, who never got a chance to play for the country after the South Africa World Cup preliminaries on June 22, 2008, has for a long time expressed the hope that he could serve the national team again.
"Age is not a problem in soccer. Whether you are 35 or 40, the key is whether you are still competitive," Li said.
"I have watched the Korean national team playing World Cup qualifiers at Suwon, and when I walked into that stadium, I always thought what if I was there fighting for my country," said Li, who helped Bluewings to two Korean FA Cup trophies during his stay there in 2009 and 2010, and was also nominated as the Asian Player of the Year in two consecutive years.
Well known for his fiery temper on the pitch, Li, who played for Wuhan in 2008, was suspended for eight matches due to an on-pitch conflict with Lu Jiang from Beijing Guoan.
The incident widened the differences between Wuhan and the CFA. Wuhan then announced it would withdraw from the Chinese Super League, while the disappointed Li chose to play in Korea.
After two successful seasons, Li moved back to China to join Tianjin in January.
The 2010 Chinese Super League runner-up upset Korean side Jeju United 1-0 and defeated Gamba Osaka of Japan 2-1 in the group matches of the AFC Champions League in a stunning start to their season.
"The wins improved the cohesion of our team," Li said. "But one or two victories didn't mean the Chinese teams were strong enough, and I feel it's very hard for domestic squads to surpass their K-league and J-league counterparts in two to five years, especially in the ability to control the game.
"This year for the first time we have many Japanese and Korean players playing in China, and we should take the opportunity to communicate with them and learn their strengths."
As one of the few Chinese players who is well known overseas, Li pointed out the different soccer environment in Korea and China, which result in a considerable gap in standard.
"You can find culture in Korean soccer, and every team is quite disciplined," he said. "But Chinese teams sometimes don't know what they are doing due to a lack of good culture and tradition.
"Many young Chinese players don't bother with extra practice, because they are afraid of other teammates saying they are pretending to be diligent in front of coaches and club managers.
"On the contrary, all young players in Korea know they should show their best to other players."
However, Li also recognized the efforts of domestic clubs and the new-look CFA to build a healthier soccer environment.
"I found many things quite similar to Bluewings in Tianjin. It only takes 10 minutes for the coach to finish a pre-match meeting with no club officials involved," Li said. "Our team is just like a big family."