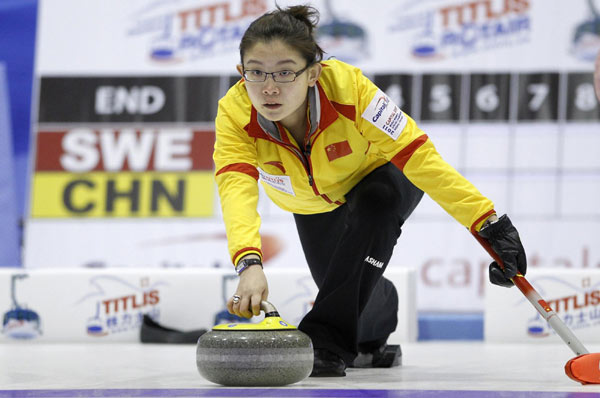 China's skip Wang Bingyu delivers a stone during a play-off match against Sweden at the World Women's Curling Championships in Esbjerg March 25, 2011. [Photo/Agencies]
COPENHAGEN - Sweden beat China 7-6 in a tight encounter on Friday evening, booking a spot in the final of women's curling world championship 2011 in Esbjerb, Denmark.
The top two teams, ranked top of the points table, were playing for automatic qualification for Sunday's final. In the first half, both teams played quite patiently and conservatively.
Sweden's Cecilia Ostlund had a good performence, saving Sweden out of difficult situations twice. After the first half, China tied the game at 2-2. The turn came in the second half, China scored two points in the 6th round and Sweden scored four points straight in the 7th and 8th round.
When the game came to 9th round, China was two points behind and managed to score two points to tie the game. Finally, Sweden won the game narrowly with Skip Anette Norberg scored one point in the last round.
Despite the loss, China keeps its title hopes alive by making it through to the title match when it plays the tournament's only semifinal match on Saturday afternoon. The second playoff is scheduled to take place between Denmark and Canada on Saturday morning.  
The winner of the Denmark vs. Canada encounter will meet China in the semifinal. As of Friday, all 12 competing nations in the tournament had played each other in the round-robin stage, with Sweden topping the table with 10 wins and two losses. China is placed second, with eight wins and four losses.  
Denmark is in third place with seven wins and four losses but a better game record than Canada, with eight wins and four losses, which was ranked in fourth place.