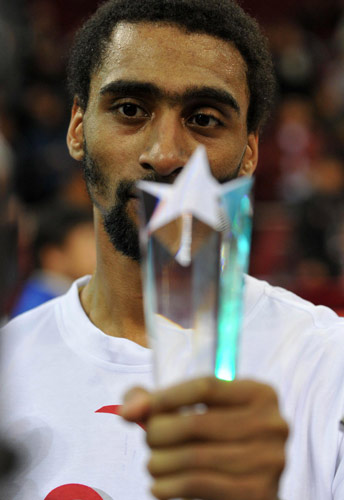 North All Star Quincy Douby is awarded the MVP of the CBA All-Star game in Beijing, March 20, 2011. [Photo/Xinhua] 
BEIJING - Quincy Douby was named the MVP of the CBA All-Star game on Sunday as he scored a game-high 44 points to lead the North past the South 115-114.
Douby also broke the scoring record for CBA All-Star game - 42 points set by Hu Weidong in 1997.
Marcus Williams paced the South team with 31 points but he missed one free-throw with 4.9 seconds left, losing the chance to equal the score and take the match to overtime play.
Stephen Marbury, the 2010 CBA All-Star MVP, scored a field goal in the start of the fourth quarter to put the South 91-90 in front for the first time throughout the match.
But Zhang Qingpeng responded with a three-pointer to help the North regain the lead at 95-93. The North then enlarged its advantage to 11 points as Douby and Randolph Morris combined 17 points before Marbury added four points.
With 4.9 seconds left, Mo Ke hit a three-pointer to cut the deficit to only two points. Marcus Williams then was fouled but he only converted one out of two shots.
Marbury had 30 points and seven assists, but the former NBA All-Star player was 0-of-10 at the three-point line.
The North scored 19 three-pointers, six of which came from Douby. Douby also had five assists.
Williams grabbed a game-high 12 rebounds. Newly-crowned three-point shooting champion Sun Jie had four three-pointers and socred 14 points in total.
Local-favored Morris had 13 points and eight rebounds.
Douby became the third foreign player to take the MVP title at the CBA All-Star games. Marbury was crowned in 2010 while Jon Smith won the honor in 2006.
Wang Zhizhi, who played only 17 minuted and scored four points, still holds the record of most MVP titles - in 2000, 2008 and 2009. Bateer won two MVPs in 2002 and 2005.
Zhao Tailong of Fujian SBS was crowned the champion of the Dunk Contest, Lin Zhijie of Zhejiang Guangsha defended his title of the Technics Challenge and Sun Jie of Shandong Gold beat defending champion Zhang Qingpeng of Xinjiang Guanghui to win the Three-Point Shooting Contest.