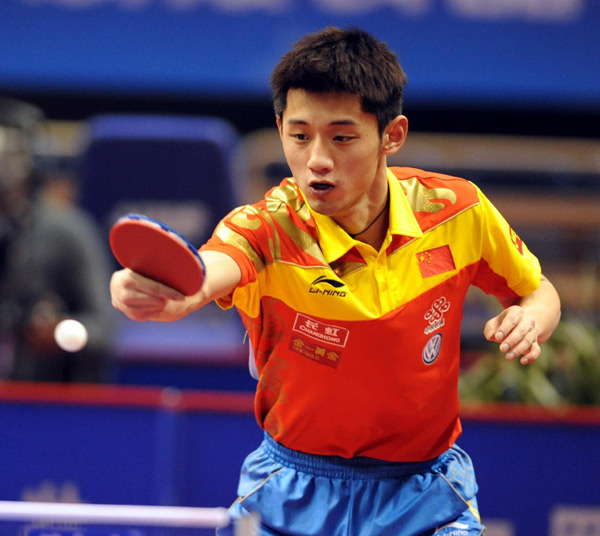 Zhang Jike of China returns a shot during the Chinese team trials for 2011 Rotterdam World Table Tennis Championships in Zhucheng, East China's Shandong province, March 7, 2011. [Photo/Xinhua] 
ZHUCHENG, East China - Zhang Jike finished first in the Chinese team trials of 2011 Rotterdam World Table Tennis Championships (WTTC) on Monday night.
Zhang beat arch-rival Wang Hao 11-7, 11-6, 8-11, 8-11, 11-9, 11-8, 11-3. "I performed normally in the first two sets, but I played better in the remaining ones. After this match, I will take the closed training with the team in which I wish to adjust myself to the best form both physically and tactically," said Wang Hao after the match.
Related readings:


 Europe chases first victory over Asia at Table Tennis Challenge


 S Korea names new table tennis head coach


 Olympic champion divorces after 2-year fight


 Former Chinese table tennis players to play for Singapore
Three other Chinese male paddlers including Wanghao, Hao Shuai and Ma Long were also picked for the 2011 tournament in Rotterdam after the second round of final trials.
According to the new rules issued by International Table Tennis Federation (ITTF), China has seven singles berths for men and women respectively, together with three doubles and two mixed doubles in the coming Rotterdam world championships.
Veteran paddler Ma Lin and Wang Liqin did not receive the direct passport but they still have chance. 
"The other players to the worlds will be decided later," said head coach Liu Guoliang.
A selective tournament had been held for the qualification of 2011 World Championships in January. And the top four players would qualify automatically.
In the women's team, Ding Ning and Guo Yan have qualified for the championships, and the last two members will be unveiled here on March 10.