The game of golf has traditionally been dominated by Western players, but that may be changing. Tang Yue looks at one athlete who may soon be bringing the trophies home to China.
Born: Aug 2, 1978

Residence: Zhongshan, China

World Ranking: 74

Turned professional: 1999

Current tours: Asian Tour,

Japan Golf Tour, OneAsia Tour,

European Tour

Professional wins: 17

Number of wins by tour:

European Tour 1; Asian Tour 2

LIANG WENCHONG

 

 

 

BEST RESULTS IN MAJOR CHAMPIONSHIPS

• Master Tournament

Cut: 2008

• US Open

DNP

• The Open Championship

T64: 2008

• PGA Championship

T8: 2010

ACHIEVEMENTS AND AWARDS

• Asian Tour Order of Merit

2007

• OneAsia Tour Order of

Merit: 2010
Golf is not new to Asia, and some of the most challenging and beautiful golf courses are springing up all over the continent. Asian players, too, are edging into the spotlight. Yani Tseng from Chinese Taipei took the top spot in the women's world ranking on Feb 13, 18 months after Korean Yang Yong-eun became the first Asian man to win a major title with his triumph at the 2009 PGA Championship.
While golfers from the Chinese mainland are still biding their time lower down the ranks, it will not be long before one of them rises to the top like the proverbial phoenix. That rising star could well be Liang Wenchong.
The 32-year-old has already made his first move with an attention-grabbing feat. He broke the golf course record with an eight-under-par 64 in the third round at last year's PGA Championship hosted by Whistling Straits. At the post-match conference, he had thrown down the gauntlet: "Let the world know there is professional golf in China".
It was a comment made in a light-hearted moment, Liang says, but the sentiments are serious.
"I was joking a little but I did indeed think that way. I wanted the whole world to be aware that there are some pretty good Chinese golfers," Liang tells China Daily.
"Golf is still pretty young in China, with a history of less than 30 years. There is still a long way to go and a lot to learn from the US and Europe."
Unlike most successful golfers, who acquired their first clubs and were inspired by big names at an early age, Liang followed a very different path.
He was a peasant's son in Guangdong province, and spent most of his childhood in the field with his parents, sowing and gathering their peanut crops. For leisure, he was fishing in the ditches and chasing chickens around.
He could have become a farmer like his father or one of the millions of migrant workers in the big cities nearby.
However, the first golf club on the Chinese mainland was built in his hometown, Sanxiang, Zhongshan. The club was talent-spotting in his secondary school when Liang was picked. He was 15 and had never touched a club.
Many of the trainees dropped out of the demanding training, but it was Liang who persevered, training at 5 am for more than two hours without interruption before school, in all weather.
In 1995, two years after he picked up his first club, he won the National Junior Championships and defended the title the next year. He then took three National Amateur Championships in a row from 1996 to 1998.
He turned professional in 1999 and used his prize money to build a four-story house for his parents.
"I'm really lucky. Golf changed my destiny and I am committed to the sport," Liang says.
Before Liang there was former China's No 1 golfer Zhang Lianwei, the first to achieve some measure of success on the professional circuit. Liang and Zhang shared rooms and became good friends after Liang turned professional, and Liang has even beaten Zhang on a few occasions. Liang has even volunteered to caddy for Zhang, so he can pick up pointers.
"The first time was in 2000 at the Mission Hills. Tiger Woods came to compete and, of course, I wanted to compete against him. But I chose to caddy for Lianwei and watched him and Woods play. The match was really an eye-opener", Liang says.
He also traveled to Shenzhen to play with Zhang. Without a car at the time, Liang always spent hours on the coach before taking a taxi to the course. "So many years have passed, but I still remember those days clearly," he says.
Other memories that linger are the journeys between Zhongshan and Japan that he made in 2004
At home in Zhongshan, Liang would still get up at five in the morning and go to the greens until six in the evening. Then he would ride 10 kilometers to another course for another two hours training.
"Why did I train so hard? Because I always thought of the days when I was starting out," he says, "Most people started earlier and the only way I could catch up was to practice more."
His persistence has paid off.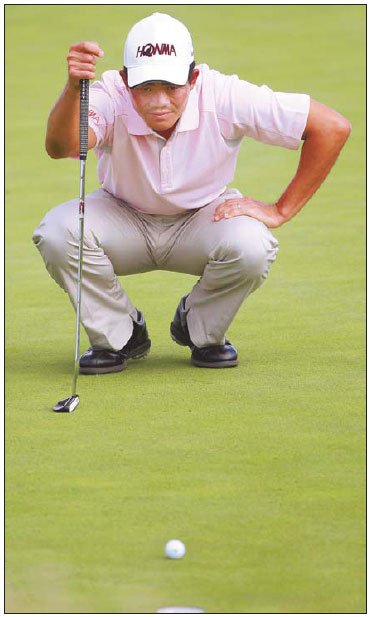 Liang Wenchong of China lines up a putt on the third green during the third round of the 92nd PGA Championship on the Straits Course at Whistling Straits on August 14, 2010 in Kohler, Wisconsin. [Photo/AFP]
After more than a dozen top 10 finishes on the Asian Tour, Liang won the 2007 Singapore Masters, which was co-sanctioned by the Asian Tour and the European Tour. He was the second golfer from the Chinese mainland, after Zhang, to win on the European Tour.
In 2007, he won the Order of Merit on the Asian Tour, becoming the first from the Chinese mainland to do so.
In July 2008, he became the first Chinese golfer to make the cut at The Open Championship at the Royal Birkdale Golf Club. Besides the breakthrough at the PGA Championship, he also won the Order of Merit on the One Asia Tour last year.
Although he has gone much further than he had expected - and he is no longer as energetic as he was in his 20s - Liang still keeps a club in hand for more than eight hours a day.
The frugality is also unchanged. When he eats out with his family, he still packs the leftovers in doggy bags.
"I haven't changed. This is who I am. To waste is a shame," says Liang, father to a 6-year-old son and 2-year-old daughter.
Apart from his dedication to golf, Liang is also actively involved in charity to improve the image of the sport in the country where it is perceived to be a rich man's sport and an elitist game.
After the 2008 earthquake in Sichuan, Liang donated 250,000 yuan and gave another 300,000 yuan to victims of last year's catastrophic mud slides in Zhouqu county in Gansu province.
"I'm from a peasant family, and after so many years on the professional tour, I know how important it is for the sport to identity with society," he says.
Golf will be part of the Olympic program at the 2016 Games in Brazil, and after 12 years as a professional golfer, Liang says the Olympics is his dream. He is not just getting himself ready, but is exploring and developing future talent.
With the 100 million yuan prize he won at the 2007 Singapore Masters, Liang has set up the Zhongshan Young Golfer Development Foundation and recruited hundreds of young players, providing them with free training.
"I want to expand my foundation little by little and let more kids from the countryside learn to play golf," Liang says. "Golf requires industry, staidness and patience. These are exactly the qualities that our country children have. As more investors turn farmland into golf courses, I hope these children will get the chance to play and not just get jobs to weed the greens."