BEIJING - French coach Philippe Troussier signed a three-year contract with Shenzhen Ruby Football Club on Tuesday and is expected to revitalize a team, which struggled to avoid relegation last season, in this year's Chinese Super League (CSL).
Shenzhen Ruby, who won the first CSL championship in 2004, has struggled in recent years and only avoided relegation last season by securing a 4-4 draw against Liaoning in the final round of the nation's top-flight league.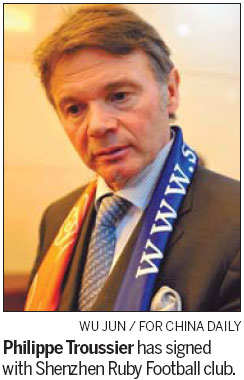 According to Wan Hongwei, chief executive of Shenzhen Ruby Football Club, the organization started looking for a foreign coach with a good reputation and outstanding ability from the end of last season.
"Instead of focusing on the team's results, we paid more attention to the coach's ability to train young players," said Wan. "Troussier was the best choice."
Known as the "White Witch Doctor", Troussier has worked with clubs and national teams in eight countries. What made him well known to Chinese fans was his success with the Japanese national team.
During his tenure, from 1998 to 2002, the Japanese claimed the 2000 Asian Cup and made the round of 16 at the 2002 World Cup. Troussier also coached the Japanese Olympic team to a fifth-place finish at the 2000 Summer Games in Sydney.
"I am very pleased to be here in China and I'm willing to face any challenge," said the 55-year-old, who was in charge of FC Ryuku, a Japanese third division team, before he was replaced by compatriot Jean Paul Rabier.
"I have some understanding of Chinese soccer - the national team, as well as the Chinese league - and I will do my best to help the team achieve better results," Troussier said.
"The Chinese people are very passionate about soccer and I want to join (the Ruby fans) in reaching targets through our combined efforts."
The new CSL season starts on April 1.
China Daily