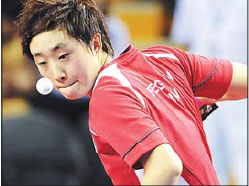 Singapore's Feng Tianwei leads the table tennis in Guangzhou.
GUANGZHOU - Singapore could provide China with more than a few headaches in table tennis at the Asian Games.
As a country of only 5 million people, Singapore will not go anywhere near shaking China's dominance of the medal rankings, but it could be serious threat to the hosts in table tennis, which is regarded as the "national ball" of China.
After upsetting the Chinese women's team at the World Championships in May, the Singaporean paddlers are expected to again engage in a tough battle with the hosts.
Singaporean swimmer Tao Li is another one to watch. The then 16-year-old won the gold medal in the women's 50m butterfly and bronze in the 100m butterfly event at the 2006 Doha Asian Games.
In 2001, Singapore authorities set their sights on the island nation becoming a top-10 sports country in Asia by 2010. Four years ago, in Doha, it was ranked 12th on the medals table with eight gold - five in sailing, one in bodybuilding, one in swimming and one in bowling.
The goal in Guangzhou is to win 11 gold medals.
Of note, Singapore won the first ever gold medal at the Asian Games. In 1951, Chinese Singaporean Neo Chwee Kok became the first Asian Games gold medalist by winning the men's 1,500m freestyle.