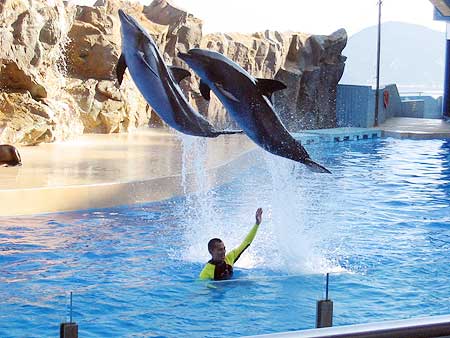 Newly embraced in Guangzhou Zoo is a new exhibition hall with peculiar looks - Guangzhou Ocean World, which truthfully reappears the mysterious, changeable and splendid ocean world. It has been in high repute ever since its inauguration, attracting batches of visitors from home and abroad.
A large-scale and multi-functional scientific and technological exhibition hall that mixes together entertainment, appreciation, scientific research and education, Guangzhou Ocean World covers an area of about 13,000 sq meters, with a total investment of US$ 50 million. It has been named Guangdong Educational Base for Popular Marine Science by the Science and Technology Association of Guangdong Province.
Guangzhou Ocean World is divided into several areas to reveal the submarine world in all directions, including Ocean Square, Relief Square, Submarine Tunnel, Deep Sea Scenery, Seaweed Pillar, Treasure Window, Fresh Water World, Rocky Seashore, Touch Pool, Sea Turtle Pool, Shark Hall, Hall of Popular Marine Science, Ocean Theatre, Sealion Amusement Park, etc. All these exhibition areas have distinctive specialties, vivid and true to life.
As Guangzhou is not close by the sea, designers adopted complete sets of imported equipment for life maintenance as well as the state-of-the-art technology for manmade seawater in order to enable the living creatures from the depth of the sea to settle down at Guangzhou Ocean World. It is these advanced equipment that make people's dream of 'ocean on the land' come true.
Address: 120, Xianlie Rd.,M. (510070)
Tel: 87611250 87611884-1111, 1112
Fax: 87611919
Time: 9:00Am-17:00Pm
Bus: 6, 11, 16, 27, 33, 65, 122, 129, 133, 201, 209, 218, 220, 223, 234, 236, 269, 271, 272, 804