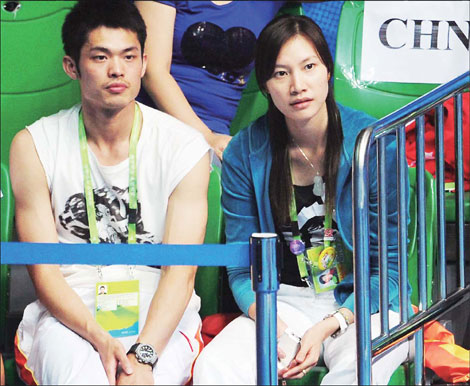 Newlyweds Xie Xingfang and Lin Dan were caught on camera watching the Asian Games last month. [Photo provided to China Daily]
Former badminton star must now juggle work, studies and a new husband
GUANGZHOU - The recently concluded Guangzhou Asian Games saw Xie Xingfang successfully change roles from badminton star to volunteer recruiter.
The 16-day extravaganza also witnessed the Guangzhou native's love for her husband Lin Dan, who won his first Asian Games singles title in front of the home fans.
However, the former women's world No 1 shuttler has had little time to bask in the glory of the Asiad as she has taken on an even bigger challenge by working at the Asian Para Games.
"I had no experience working with disabled people, and a lot of things have been quite new for me," said Xie, who immediately started recruiting volunteers for the Para Games after the Asiad. "Serving paralyzed athletes requires more skills and we were very busy training the volunteers for a number of days."
To ensure quality service, Xie spent several days touring the stadiums before the event's opening to check on the volunteers' work, such as how to open wheelchairs and push them up slopes.
According to Xie, the volunteer manager of the basketball stadium thought of a good idea to motivate the volunteers - that only after passing a test on how to serve disabled athletes could they claim their work suits.
"Many volunteers felt very proud to work in the Asian Para Games suit, and the plan pushed them to work harder," she said.
"Some volunteers missed the opportunity to serve at the Asian Para Games due to a conflict with the national college English test, but they really wanted to work at the event as they had made many friends during the Asian games and found the work quite rewarding."
An influx of volunteers familiar with the problems of the disabled has helped the games run more smoothly.
Four specialist volunteers were specially recruited to coach the others and 29-year-old Xie said their roles were vital.
"They knew much more about disabled athletes than us, so they improved the volunteers' quality of service by telling them what the athletes think," she said.
"We also recruited volunteers proficient at sign language from professional schools. It's hard for normal people to learn sign language in such a short time, but every volunteer has a notebook and pen to communicate with the disabled."
After leaving Guangzhou to join the national team in 1998, Xie's world was mainly filled with badminton, and she admitted she had never really taken much notice of volunteers when she was playing.
"An athlete's sporting life is very short, so I used to focus on my score because that was my job," said Xie, who won her first major singles title at the 2005 World Championships in the United States and then defended the title the following year in Madrid.
"However, I now see how exhausting their work is after working in the recruiting department. They had to stay at their posts though it was very hot during the Asiad," she said.
Already regarding the volunteers as her "little sisters and brothers", Xie feels sad for some students who have to get up at about 5 am to reach the stadiums two hours ahead of the events. Those in charge of publicizing the event also need to work more than 12 hours a day to make sure all the news reports are finished correctly and on time.
Xie's other identity - as postgraduate at Peking University - also makes her more sympathetic to the volunteers, most of whom are university students.
After her ups and downs on the court, the 29-year-old decided it was time to return to her studies, and she is now majoring in social work.
"This is a new major at Peking University, but has developed well in Hong Kong in recent years," said Xie. "I haven't decided what to do after graduation. I think more knowledge will give me more ideas and opportunities."
Besides being a student and Asian Games official, Xie also took on a new role this week - as wife of the Chinese men's No 1 player, Lin. The two fell in love in 2004 and their marriage was reported on Monday in Guangzhou.
Though Lin was a little upset after being told their marriage had been revealed during his training in Beijing, the couple has received blessings from numerous friends and fans.
Q & A >> Xie Xingfang
Which restaurant in Guangzhou do you recommend?
Tai Ping Guan Restaurant on Beijing Road. It's an old restaurant with a history of more than 100 years, and the furnishings have ancient charm. The food there is a mix of Guangzhou and Western styles, and the toasted squab is delicious.
Which Guangzhou cuisine do you miss when you are away from home?
Dim sum, of course. Fortunately, there's a really good restaurant called the Tang Palace Seafood Restaurant near Chongwenmen in Beijing. We used to go there on Sunday because we trained from Monday to Saturday.
China Daily