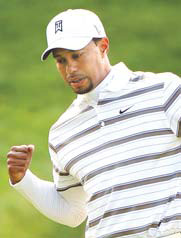 THOUSAND OAKS, California - For the first time this year, Tiger Woods has strung together three good rounds with the quality of his ball-striking and the coolness of his course management suggesting he is back to his best.
Having delayed the start of his 2010 campaign after being engulfed by a torrid sex scandal, the 14-times major champion is now ideally placed to end it with a long-awaited victory at the Chevron World Challenge that he hosts.
Woods opened with a sparkling seven-under-par 65 on the undulating Sherwood Country Club layout and followed up with a 66 and 68 to lead the elite field of 18 by four strokes going into Sunday's final round.
While the former world number one has taken great pains this week to say he is still a work in progress after enduring his worst season as a professional, his peers have been much more forthright.
"His short game and putting is superb, as always," Britain's Graeme McDowell told reporters after carding a 68 in Saturday's third round to lie alone in second at 13-under 203.
"He barely missed a fairway, and that's more like him of course. When the long clubs start misbehaving, that's when he gets into trouble but today he controlled the ball well.
"It was great to play alongside the best player that's ever played," added the Northern Irishman, who was paired with Woods in the final grouping. "It's good to see him playing well."
Britain's Rory McIlroy played with Woods in Friday's second round and was also impressed by the former world number one's form.
"He just played really solid golf," said the 21-year-old. "I haven't watched a lot of him this year but, what I have seen, it looked like mentally he wasn't quite there. Now he's in a better place."
Former United States Ryder Cup captain Paul Azinger has watched the resurgent Woods on television this week and in his view his fellow American was clearly back to his best.
"Tiger is standing the club straight up on (his) practice backswing instead of over-rotating arms and laying (the) club off and around him," Azinger said in a posting on the social network Twitter. "Awesome change.
"His practice follow through is better with hands low and club in front of him. His actual swing is very close to practice routine. He's back!"
Reuters