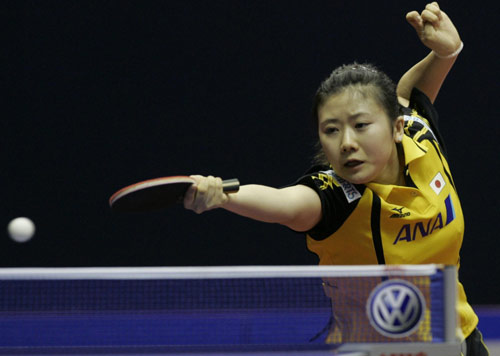 Japan's Fukuhara Ai returns the ball during the Women's World Cup table tennis tournament in Kuala Lumpur, the capital of Malaysia, Sept 24, 2010. [Photo/Agencies]
TOKYO - Japanese table tennis player Ai Fukuhara is preparing for the upcoming Asian Games that will be held in Guangzhou, the capital city of southern China's Guangdong Province, in November.
Fukuhara, a popular player in both China and Japan, is familiar with the metropolis. "I played twice in China Table Tennis Super League representing the Guangdong team," she said.
"There are so many local delicacies and so many places of fun," she said. "I love the city."
Fukuhara told Xinhua on Thursday that she would not be thinking of meeting Chinese players for the time being because she rarely had the chance in the past games.
The Japanese player said it was regrettable that she did not enter quarterfinals in singles and doubles in games in Qatar and she would do her best to clinch some medals this time.
Fukuhara started playing table tennis at a tender age. She was the national flag bearer for Japan at the Beijing Olympics in 2008.