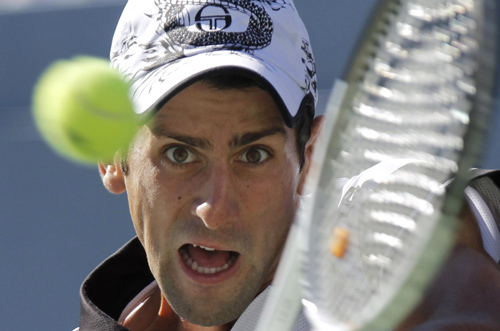 Novak Djokovic of Serbia hits a return to Roger Federer of Switzerland during the US Open tennis tournament in New York, September 11, 2010. [Photo/Agencie]
NEW YORK - Third seed Novak Djokovic beat second seed Roger Federer in a five-set thriller to advance into his second US Open final on Saturday.
Djokovic outmatched the Swiss 5-7, 6-1, 5-7, 6-2, 7-5 to snatch the five-set epic victory in three hours 43 minutes.
Related readings:


 Djokovic powers past Monfils into US Open semis


 Djokovic nets easy win over American Fish


 Federer, Djokovic cruise


 Dream Open final still in the cards

Federer made 65 unforced errors, 27 more than his Serbian opponent.
"I lost a couple more with match points this year, so they all pretty much feel the same. They feel somewhat empty at the end because you have tried everything and maybe it was luck," said Federer, 16 Grand Slam titlist.
"Maybe it was he (Djokovic) played well. Maybe you didn't pick the right shot."
Djokovic is through to his second New York final, and he will face world number one Rafael Nadal on Sunday.
The Spaniard eased past Russia's Mikhail Youzhny 6-2, 6-3, 6-4 in the first semifinal on "Super Saturday".
Djokovic, the 2007 runner-up, has been knocked out of the US Open three straight years by Federer -- in the 2007 final and in the semifinals the past two years.
In the first set, the two seeds exchanged breaks to force a 5-5 draw before Federer notched three straight points, earning a triple break point in the 11th game to wrap up the set 7-5.
Djokovic rallied to break the second seed twice for an easy 6-1 win in the second set.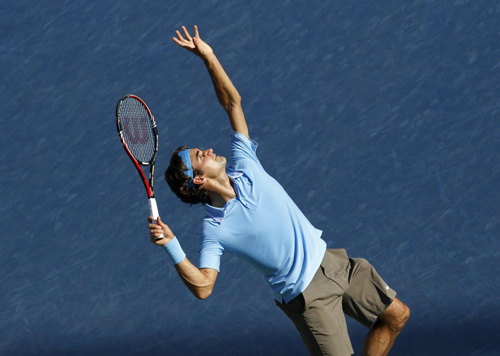 Roger Federer of Switzerland serves to Novak Djokovic of Serbia during the US Open tennis tournament in New York, September 11, 2010. [Photo/Agencie]
Federer repeated what he did in the first set to force a triple break point in the 12th game of third set, grabbing another 7-5 thanks to Djokovic's long stroke.
The Serbian answered with another double break in the fourth set,  prolonging the match into the decider with a 6-2 set victory.
The fifth set was carried out in a more intense and fluctuating way. The Serb forced four deuces in the seventh game as he took the advantage of a series of errors from Federer, but a backhand down net ball from Djokovic enabled the Swiss to go through.
It's a similiar case in the tenth game. Federer earned two match points and forced three deuces at Djokovic's serves but also proved fruitless as a backhand drive dropped the net from the second seed.
"You can't turn back time. Obviously I had to come up with a couple of good shots on match point, but I don't feel I have that many regrets in that regard. You feel like you left something out if you lose the match having had match point," said Federer.
"It was not the final, so I'm not as disappointed it would have been in the final. That's the only positive news to enjoy anything out of it."
Djokovic struck back in the 11th game as the 2008 Australian Open champion converted his sole break point capitalizing a long shot by Federer for a 6-5 lead and served out the match.
Djokovic, 23, will challenge the 24-year-old Spaniard Nadal, who has won his last 20 Grand Slam matches and holds eight Grand Slam titles.
Nadal is the reigning Wimbledon and French Open champion who has never reached a US Open final. The world number one superstar needs a US Open title to complete the career Golden Slam, which is all four majors and an Olympic gold medal.