BOSTON, Massachusetts - Tiger Woods was in danger of losing his five-year grip on golf's world No 1 ranking to Phil Mickelson or Steve Stricker in Monday's last round of the PGA Deutsche Bank Championship.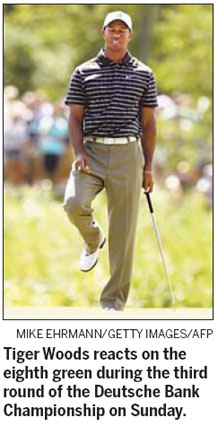 Woods fired a two-under par 69 on Sunday to share 23rd place and trail leader Jason Day of Australia by 10 strokes after 54 holes of the second stage of the US playoff system leading to the Tour Championship.
But the event and playoff chase were overshadowed by the possibility of Woods losing his top spot just two weeks after his divorce from Elin Nordegren and in the wake of the sex scandal that destroyed his iconic image.
"I played better than what my score indicated," Woods said of third round. "I had a lot of putts that I didn't make. I had a couple of nice par putts, but, boy, I missed a lot of birdie putts."
Should either fourth-ranked Stricker or second-ranked Mickelson win the Deutsche Bank crown and fellow American Woods finishes far enough back, the 14-time major champion's 273-week reign atop the rankings would be over.
Day birdied the par-five 18th on Sunday to fire a five-under 66 and stand on 17-under 196 after 54 holes, one stroke better than American Brandt Snedeker, who shot a 67, and two ahead of England's Luke Donald, who fired a 66.
Related readings:


 Woods well back after third round at Boston TPC


 Woods' ex went 'through hell'


 Tiger Woods and ex-wife speak out


 Interview: Woods' ex-wife went 'through hell'
But defending Deutsche Bank champion Stricker stood fourth on 200, one stroke ahead of Mickelson after each fired a 67, putting both men in prime position for the finish they would need to overtake Woods.
For Stricker to claim the top spot, he must win the $7.5 million event and also have Woods finish outside the top nine and Mickelson not place among the top three.
Mickelson has his 10th opportunity of the year to overtake Woods and become world No 1 for the first time.
He could do so with a victory, as a runner-up if Woods is outside the top three, if he is third and Woods is outside the top nine or with a fourth-place showing provided Woods is not in the top 24 and Stricker does not win.
"I haven't paid attention to what needs to happen, but I'm looking forward to getting in the hunt and seeing if I can get off to a good start and make some birdies," Mickelson said.
"Play like you deserve it. That's the goal."
Stricker, who has now played 72 holes in a row without a bogey, will worry about winning and let the rankings take care of themselves.
"It's always hard to win," he said. "I'm just going to have to go out and do my best and try to get in position the last few holes and see if I can get a chance at it.
"I'll do the things I've been doing and see if I can't hole a few more putts."
Stricker could become the first man to complete a bogey-free US PGA event since Lee Trevino at the 1974 Greater New Orleans Open.
Woods has been atop the rankings since just before the 2005 US Open, but he has gone winless since last November's eruption of the scandal that saw him admit cheating on his wife with multiple mistresses, make a public apology seen worldwide and return to golf last April at the Masters.
None of that had the slightest impact, however, on a fine round by Day, who shared the lead after each of the first two days then birdied the last to claim the top spot alone.
"I felt like I drove the ball pretty well and hit a lot of greens out there, which was nice," Day said. "My goal was just to try and not make a mistake, and unfortunately I made a hiccup on 16, but overall very happy to be where I am."
Day made three birdies on the front nine, added two more at 11 and 15 but a bogey at 17 left him sharing the lead with Snedeker, who answered a bogey at the third with an eagle at the fourth, then birdied 16 and 17.
At 18, Snedeker chipped in for par to stay one stroke back.
"It would have been a tough way to end the day as well as I played coming in," Snedeker said.