PARAMUS, New Jersey - He may well want to forget the past, but the present and future is suddenly looking bright for Matt Kuchar, who pulled off the biggest win of his career at the opening leg of the FedEx Cup playoffs on Sunday.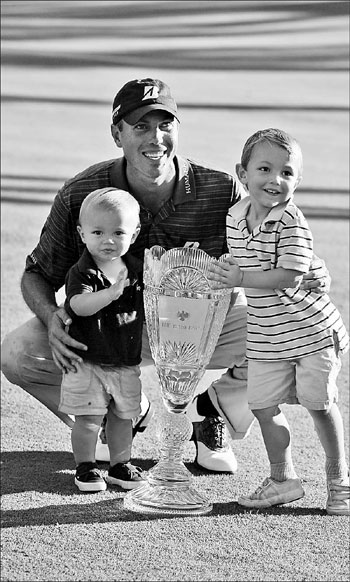 Matt Kuchar and sons Carson and Cameron (right) pose with the trophy after Kuchar won The Barclays at the Ridgewood Country Club on Sunday in Paramus, New Jersey. Kuchar won on a one-hole playoff in the first leg of the FedEx Cup series. [Agencies]
After spending most of the past decade struggling to keep his place on the PGA Tour, the 32-year-old Kuchar is enjoying a rich vein of form that shows no signs of stopping.
Related readings:


 Kuchar tops PGA leaderboard


 Woods 3 back after day one


 Choi, Kuchar paired with Tiger to start event
Twice this year, he finished in the top 10 at majors, the US Open and the US PGA, and his consistency was rewarded with an automatic place in the US Ryder Cup team.
But the highlight of his season came on the final day at the Ridgewood Country Club on Sunday, where he produced a miracle shot on the first sudden-death playoff hole to win the Barclays title after starting the day five shots off the pace.
"There's nothing like the feeling of winning a PGA Tour golf tournament," Kuchar said. "You feel like you are the best player in the world for this week.
"It's just an amazing feeling to think there's 125 of the best players in the world started this week and I came out first. It's an amazing feeling and one I'm awfully proud of."
Kuchar is not quite an overnight success, having spent a decade on the Tour.
Following an amateur career that drew comparisons with Tiger Woods, he won his first Tour event in 2002.
But his second was more than seven years in the making, coming last October. The confidence from that has carried over to this season where he has enjoyed 10 top-10 finishes but no more wins until Sunday.
"There's nothing better for confidence than winning. After all my wins, you just feel like you're on top of the world," he said.
"I know that always doesn't last too long. Next week is a brand new week. Fortunately I have an extra day to kind of celebrate. I'm looking forward to that. This is good timing for me."
Kuchar pocketed more than $1.3 million for his victory, but the spoils of his win will carry on for years.
He earned exemption from qualifying for all four majors next year and an automatic place in this year's Tour Championship at East Lake, where the overall winner of the FedEx Cup series will collect $10 million.
"I'm excited. It's been number one on my goal list of what I'd like to accomplish for my year on the PGA tour for a number of years," he said.
"I've wanted to get to East Lake. It's a home game. It's a course I know. It would be great to have friends and family to be there. To lock it up is a great feeling.
"It's been a great year, but I knew even when I was coming in ninth into here, I knew there was potential to drop out."