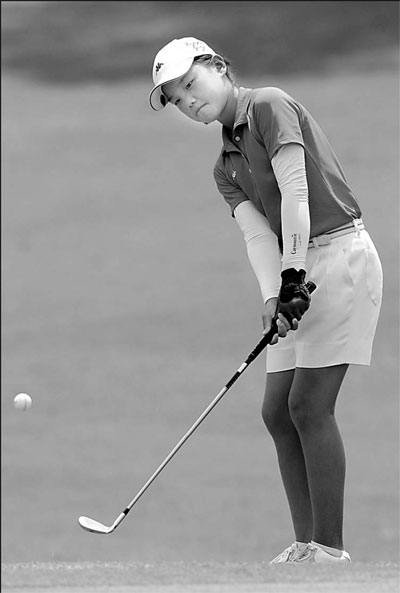 12-year-old Shi Yuting plays a chip shot during the China Amateur Golf Futures tournament in Yiyang, Hunan province, last week. Shi, who won the event, is seen as the most promising women's golfer of her generation. Provided for China Daily 
Twelve-year-old girl is tearing up China's junior circuit and is tipped to become a major star in the sport, as Chen Xiangfeng reveals.
Shi, in Chinese, means stone or rock, and young Shi Yuting is as steady as they come. Shi, at the ripe old age of 12, has been recognized as the best golfer of her generation in China and shows great strength, consistency and maturity on the golf course.
"Players my age tell me they feel scared when they play against me," said Shi, who was born in Japan but returned to China at the age of five.
"Maybe I look very serious and my play some times is aggressive. I'm good at adjusting play and don't want to let my opponents catch up."
Calm and contained on the course, Shi has dominated her age group on China's junior circuit over the past three years, winning dozens of titles.
In the eight junior events she has competed in this year, she has won six.
"I like the feeling of winning trophies. It's like receiving lots of gifts from your parents after you excel in an academic course."
Her mother, Liu Yuejin, said Shi is more mature in the sport than other girls her age.
"She is smart and stable. She has got a gift for the sport," said Liu.
"I ask her what kind of award do you want from mum after winning a tournament and she just says the trophies are the best reward."
The growing number of trophies is not only the motivation for Shi.
"I have won so many trophies that my sister also wants some. She picked up the golf clubs and is now learning the sport in the same school as me," she said of her eight-year-old sibling.
While some of the other children Shi's age enjoy winning toys and other small prizes at skills competitions, her focus is on winning tournaments.
"I am always focused on the competition when I am on the course. They say I am a totally different person when I am out there," Shi said.
"I enjoy playing golf. I do not feel any kind of fatigue or pressure even if I have to practice and go to school every day."
However, it's not all work and no play for Shi.
"She is very active and some times a crazy girl in daily life," said her mother. "She will sing loudly and cheer and shout at home. Totally different from on the golf course."
Shi loves music and also other sports.
"I love pop music, my idol is Taiwan's Jay Chou," said Shi, who learned to play piano in Japan. "I also have spare time to play badminton, billiards and swim."
Shi's glittering career on the junior circuit has allowed her to take the big step into China's LPGA Tour and she made history by becoming the youngest player to make a cut in a pro tour event, in Shanghai last year. She made a bigger splash in June of this year when she finished third at the CLPGA's Shanghai event.
"No one expected me to finish so high. It was also a big surprise to me and my mum."
Much of Shi's rapid progress has been attributed to a move last July to the Shanghai Silport David Leadbetter Golf Academy.
Scot Michael Dickie is her coach and has improved her swing skills, English and mental toughness.
"I have to practice three hours every day. The coaches at the school help me a lot," she said.
To further test and hone her skills, Shi last year flew to Japan and took part in three competitions in her age group. She finished third, second and tied for seventh.
"In Japan, many girls her age are able to play golf," said Shi's mother. "I think she will try to play more there as long as she has the time. It's a great experience as the competition in Japan is of a much higher standard than China and Japan also has some of the best golfers in the world."