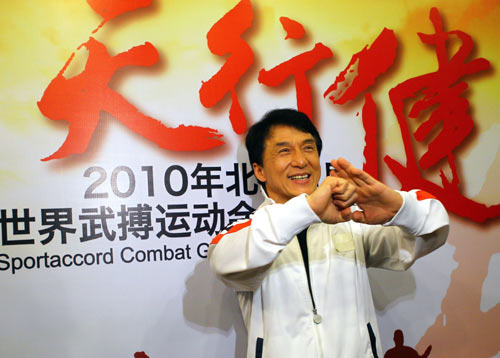 Jackie Chan takes a bow, kungfu-style, after he finishes recording the theme song for the Sportaccord Combat Games Beijing 2010. [China Daily] 
With Beijing about to host the Sportaccord Combat Games 2010 just a few weeks away, international kungfu film star Jackie Chan, says he hopes wushu, or Chinese style martial arts, will be given the recognition as an official event at the Olympic Games soon.
"I love wushu a lot and I would love to see them included in future Olympic Games," says Chan, who was in Beijing on Friday to record a theme song for the approaching combat event, which includes Chinese wushu, Japanese sumo, Muay Thai, and another 10 forms of martial arts.
Other Asian martial arts that have already become official Olympic sports include Korean taekwondo in 2000 and Japanese judo in 1964.
The International Olympic Committee (IOC) currently recognizes Chinese wushu and Japanese karate as sports, but neither is an official or a demonstration sport at the Games.
"Chinese wushu involves so many forms and styles of fighting and has so many different schools. This makes it difficult for wushu to make an unified impression to international audiences," says Chan, explaining why wushu has not been recognized as an Olympic sport yet.
During the 2008 Beijing Summer Olympic, the IOC allowed China to organize an international wushu event, although it was unofficial and not considered a demonstration sport.
Chan began practicing wushu as a child and says he still works on his moves daily.
The Sportaccord Combat Games 2010 Beijing, which runs from Aug 28 to Sept 4, will be the biggest international sports event in the capital since the Olympics. It will feature 300 athletes from 67 countries.
Chan and Jet Li, another Chinese kungfu star, will take part in the opening ceremony.