QINGDAO, Shandong province - Bob Donewald Jr, the head coach of China's national basketball team, confirmed New Jersey Nets' Yi Jianlian would take part at August's World Championships in Turkey but said it was still too early to even contemplate Houston Rocket Yao Ming's return to Team China.
"Yi will be here. I am sure he will play at the World Championships. He is in America right now rehabilitating his shoulder. Once he get healthy with his shoulder, he'll start individual workouts," Donewald told China Daily in Qingdao, Shandong province, on Sunday, where China, in their first game under the American's guidance, defeated under-manned former Olympic champions Argentina 82-61. China also won their second matchup on Monday 74-57.
"As soon as he's ready to hit the floor, he'll come back to Team China, probably in the middle of July," Donewald said of Yi.
However, while there has been speculation Yao, who is still recovering from foot surgery last July, would rejoin the team next year in time for the Asian Championships, the head coach said the time to talk about the center's return is still some way off.
"I speak to him once or several (times) every two or three days. We talk about everything from Shanghai to Team China to the Houston Rockets," Donewald, who remains the head coach of the Shanghai Sharks in the domestic league, said of Yao, who is the boss of the club.
"He is still recovering and, when the time comes, we will have that conversation (about his returning) but right now there is no sense. Let that man get healthy and at the appropriate time we'll talk about it.
"Everybody hopes he'll play again but only the guy himself knows what is best. He's also got a very important season coming up in Houston."
Of some comfort to the new coach, who took over the position two months ago, was the fitness of another veteran center and former NBA player, Wang Zhizhi, and the improving strength of the side.
Although Wang, who will turn 33 next month, didn't play in the two matches against Argentina due to an injury to his Achilles tendon he sustained last week in training, it is not expected to bother him long term.
"Two weeks ago, we had only six players who could do the training; now there are 17 healthy bodies. That alone helps a lot," Donewald said.
"As for Wang, there's no worry about his injury and he'll be OK in a few days. As a veteran, there is no need for him to go through the practice games, he can save his energy for the Worlds."
China Daily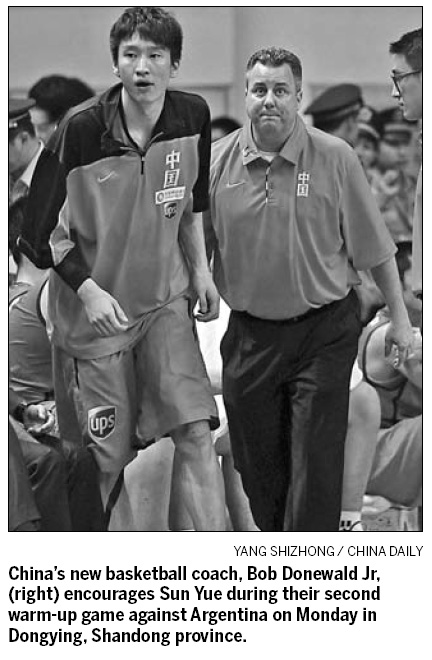 (China Daily 06/23/2010 page11)