LOS ANGELES - The Los Angeles Lakers dominated the New York Knicks for three quarters of Tuesday's game before squandering much of their lead and holding on for a 100-90 victory.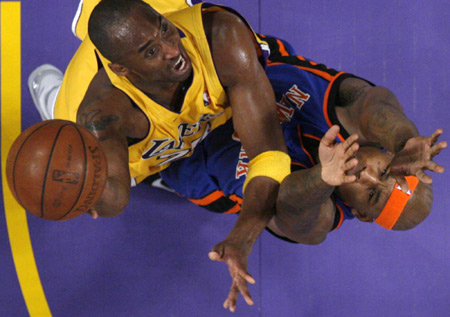 Los Angeles Lakers' Kobe Bryant (L) goes up to shoot over New York Knicks' Al Harrington during their NBA basketball game in Los Angeles November 24, 2009. [Agencies] 
Kobe Bryant scored 34 points as last season's NBA champions cruised to a fourth successive win despite a poor fourth quarter.
"Depending on the matchup, we have to go our advantages, and we have so many it's hard to focus on one or two," Pau Gasol, who grabbed 16 rebounds, told reporters.
"Our second unit has to do a better job of playing together and helping us any way they can."
The Knicks trailed by 25 points with 9:19 remaining but quickly cut the deficit with an 11-0 run against the Los Angeles bench players.
Nate Robinson and Wilson Chandler both had 15 points for the Knicks (3-11), who shot just 39 percent and were out-rebounded 60-36.
All of the Lakers starting five scored in double figures, including 17 apiece for Andrew Bynum and Ron Artest, but the team received little support from the bench.
The lone weak spot for Los Angeles during its 11-3 start to the season, their bench players have made a habit of losing leads, particularly at the end of games.
"It's kind of embarrassing to lose a big lead and then have guys like Kobe and Gasol come back in and have to finish games," said Lakers reserve guard Shannon Brown.
"It's a problem, but not a problem we can't fix."
The Lakers kicked things into high gear in the third quarter where they seized a 76-52 lead. Bryant tallied 13 points in the third and finished with five rebounds and three steals.
He shot 14-for-20 from the field in his first contest against the Knicks since scoring 61 against them last year in setting a Madison Square Garden record.
New York have lost five in a row to the Lakers.