HOMESTEAD, Fla: The nickname "Four-Time" was claimed long ago by Jeff Gordon, leaving Jimmie Johnson in search of a fresh moniker to cap his record-setting fourth consecutive NASCAR championship.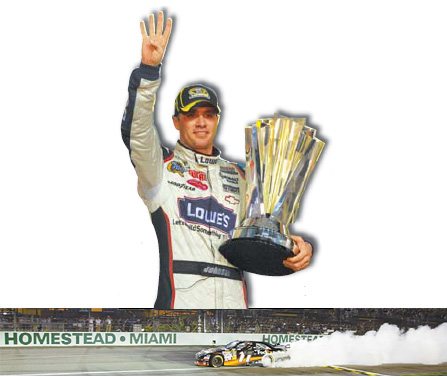 Top: Jimmie Johnson celebrates after winning his fourth consecutive NASCAR Sprint Cup Series season title at Homestead-Miami Speedway in Homestead, Florida, on Sunday. Above: Denny Hamlin does a burnout after winning the Ford 400 race. [AP]
His Hendrick Motorsports team had it covered.
They call Johnson "Shark" for his "relentless attack on the competition, especially when he smells blood", said general manager Marshall Carlson.
Johnson never let up in his chase for a championship, or his chase of NASCAR history.
Related readings:


 81-year-old is oldest to drive in NASCAR event


 NASCAR won't make changes at Talladega


 Tom Cruise drives pace car to start NASCAR Sprint Cup Series race


 Keith Urban performs at Daytona 500 NASCAR Sprint Cup Series race


Johnson wins NASCAR title
The most dominant driver of this decade wrapped up another title Sunday night at Homestead-Miami Speedway, where he raced hard to finish fifth when 25th place would have gotten the job done.
Johnson's total trails only the seven titles won by Richard Petty and Dale Earnhardt and he's now tied with teammate Gordon.
Finally, Johnson is willing to consider his place in NASCAR history.
"The fact that nobody has done this, I think it puts me near the top," he said.
"I certainly look at the seven championships by Earnhardt and Petty, their race wins, their being in the sport for the number of years and all that they've done - those two guys are kind of at a draw at the top.
"Hopefully my stats and win totals and championship totals can rival theirs. The cool thing is, we're not done yet. We've got a lot of racing left ahead of us."
All he ever wanted was a chance to race against the very best. Maybe even win a race or two.
Never did he expect to be a champion.
Especially four times over.
The 34-year-old Californian bulldozed his way into the record books, pouncing when the 10-race Chase for the Sprint Cup championship began to pull team owner Rick Hendrick into the record books with him. Johnson's title gave a record 12th overall championship to Hendrick, who was in North Carolina with a niece who was undergoing an emergency liver transplant.
In his absence, Johnson, Mark Martin and Gordon celebrated a 1-2-3 finish in the final points standings, just the second time in NASCAR history a team owner has swept the standings.
Johnson now stands atop NASCAR as a one-man dynasty, much like Tiger Woods, Roger Federer and Lance Armstrong in their sports.
AP