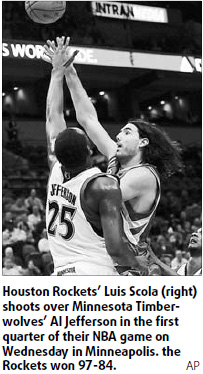 MINNEAPOLIS: Al Jefferson crumpled to the court in pain, the victim of an inadvertent kick to the head by Houston's Carl Landry in the fourth quarter.
It was a literal rendition of what has been happening on a proverbial level to the Minnesota Timberwolves nearly all season long.
Luis Scola had 20 points and a season-high 16 rebounds in Houston's 97-84 victory over the Timberwolves on Wednesday night, Minnesota's 11th loss in a row.
Trevor Ariza scored 18 points, Chuck Hayes had 11 points and 10 rebounds and the Rockets hit 12 3-pointers to hand the Wolves their seventh straight double-digit loss.
After tight games against the Suns, Clippers and Celtics at the beginning of the month, the Wolves have had too many nights like this where they showed little energy and effort as things unraveled.
"We're going to have to fight, frustrated or not," Jefferson said. "We're getting paid a lot of money to do our job. We can't do it half the time. We have to do it for 48 minutes."
Related readings:


 Lakers booed at home in loss to Rockets


 Mavericks overpower Rockets after slow start


 Bryant's 41 points lead Lakers past Rockets in OT


 Ariza scores a career-high 33 points for Rockets
Jefferson returned to the lineup for Minnesota after missing the past two games to be with his grandmother, who died last week. Playing with a heavy heart, Jefferson made his first eight shots and finished with 20 points and 10 rebounds.
He remained in the game after being kicked in the fourth quarter but was quiet for the final eight minutes as the Wolves faded.
Their only victory of the season came on opening night against the Nets, who have yet to win a game this season.
"We haven't come close in any of the games since the fourth or fifth game," forward Ryan Gomes said. "After that, every other game has been double-digit losses. We want to get off this losing streak but it's going to have to come from within."
Houston were playing the second game of a back-to-back and the Timberwolves had three days off in a row. But the Rockets were the team which played with more energy throughout. Houston outrebounded Minnesota 46-36 and scored 29 points in the fourth quarter to pull away.
"This was such a dangerous game. They had lost 10 in a row, they had a couple of days off to work out some things," Rockets forward Shane Battier said. "They want to win. They're not trying to lose 11 in a row and they know they have to play harder and more together so when you're facing those odds you have to play a good game. You can't assume you're going to win."
The Rockets, playing without All-Stars Tracy McGrady and Yao Ming, have been pushing the tempo at Suns-like speed to try and compensate. They entered the night sixth in the NBA in scoring at 103.5 points per game and had topped 100 in 10 straight, their longest streak since 1995-96.
But they looked a little sluggish early on after losing to those Suns on Tuesday night. They had no trouble getting out on the break in their usual style, it was the finishing that was proving difficult.
They commited 14 turnovers in the first half to allow the Timberwolves to hang around.
Ramon Sessions had 16 points and five assists for Minnesota, who led 67-66 late in the third quarter. But, as usual, the Timberwolves defense failed down the stretch. The Rockets had little problem getting to the basket or finding open jump shots in the fourth, quickly rebuilding a 12-point lead.
AP
(China Daily 11/20/2009 page23)