MILWAUKEE: Dirk Nowitzki thought his shot was perfect when it left his hand.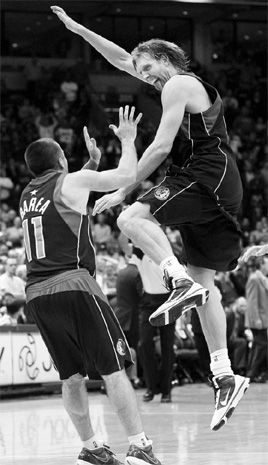 Dallas Mavericks' Dirk Nowitzki, of Germany, reacts with Jose Juan Barea (11) after Nowitzki made the game-winning shot during overtime of their NBA game against the Milwaukee Bucks on Monday in Milwaukee. The Mavericks won 115-113. [AP]
He'll definitely take the lucky overtime bounce.
Nowitzki hit a fallaway 18-footer with a hand in his face as time expired to give the Dallas Mavericks a 115-113 victory over the Milwaukee Bucks on Monday night.
Related readings:


 Nowitzki's ex sentenced to five years


 Nowitzki healing from split with fiancee


 Nowitzki helps Mavs eliminate Spurs
"I thought it was going straight in. The bounce was obviously lucky," said Nowitzki, who scored seven of his 32 points in overtime. "When it bounced up, it seemed like it was up there forever. We got a lucky bounce and we definitely needed it."
With 3.1 seconds left, Nowitzki caught a pass from Jason Kidd, who finished a point short of a triple-double, and threw it up over Luc Richard Mbah a Moute. The ball rattled off the rim and kissed the backboard, dropping softly through the hoop as the backboard lights came on.
"Great catch because they were both fighting," said Kidd, who had nine points, 10 rebounds and 17 assists. "(Dirk) made a heck of a catch and then from there he does what he does, that's making baskets. He's been doing it for us all season and his whole career."
The play was upheld after a brief review.
"It was a tough shot. It went in and out and went back in," Mbah a Moute said. "It's tough, it's very tough. He's a good player. I probably should've tried harder to deny him the ball but they just throw it up and he's 7-foot."
Nowitzki, who also had 11 rebounds, untucked his jersey and celebrated with his teammates near the Mavericks' bench after the shot went in. He jumped into Jose Barea and was immediately tackled by Kidd as Dallas finished a 3-1 road trip with a pileup.
"He got up a shot and we got a fortunate bounce," coach Rick Carlisle said. "We feel fortunate. We played hard enough to deserve the game and they did too. It's a great win for us and a tough loss for them."
Bucks rookie Brandon Jennings had 25 points, seven rebounds and eight assists in his first game since scoring 55 against the Warriors on Saturday night. But it wasn't enough to extend Milwaukee's winning streak to five.
The short-handed Mavericks lost forward Shawn Marion to a sprained left ankle in the second quarter. Owner Mark Cuban said Marion is day to day, but should be fine.
Drew Gooden had 22 points and 14 rebounds again playing in place of center Erick Dampier.
Trailing by 18 midway through the third, the Bucks cut it to 85-82 on Jennings' 3 just before time expired in the period.
Jennings' underhand runner gave the Bucks a 104-102 lead but Jason Terry tied it with a jumper with 32 seconds left. Luke Ridnour and Jennings missed shots for Milwaukee which would've won it in regulation.
Jennings said he didn't see Ersan Ilyasova open in the corner.
"I wanted the ball at the last second," Jennings said. "I didn't know Ersan's man had doubled me. When I looked back at the tape I saw he was wide open for the jump shot. It's something I'm going to learn from. It's a long season."
Ilyasova finished with 19 points, Ridnour added 17 and Andrew Bogut and Mbah a Moute each had 13 for the Bucks.
Dampier was hospitalized after warmups ahead of Sunday night's 95-90 victory in Detroit but the Mavericks have said little about it beyond he wasn't feeling well. Carlisle didn't elaborate before the game but said Dampier was flying to Milwaukee and rejoining the team in time to fly home on the Mavericks' charter flight.
That flight back to Dallas is certain to be celebratory now.
"It'll be great," Kidd said. "This is a big win. ... We've given some away and tonight, it was kind of looking like that, but we stayed involved and made some plays down the stretch."
AP