DOHA: Wayne Rooney insisted England's best team would have a chance of beating Brazil at the World Cup, despite the chastening experience suffered here by a line-up captained by the Manchester United forward but otherwise missing the country's biggest stars.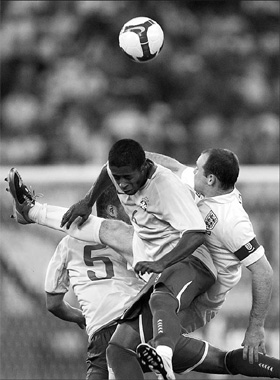 England's Wayne Rooney is squeezed between Brazil's Michel Fernandes Bastos (front) and Felipe De Carvalho (back) during their friendly at the Khalifa Stadium in Doha on Saturday. Brazil won 1-0. [AFP]
England went down to a 1-0 defeat that could easily have been much heavier on what was a landmark day for Rooney, who skippered his country for the first time just 12 days after the birth of his first child.
Related readings:


 Rooney warned over ref criticism


 England's Fisher, Poulter expect World Cup glory


 Beckham begins England's 2018 World Cup charm offensive
The 90 minutes England spent chasing Brazilian shadows will not be an experience he will particularly want to reminisce about once his new-born son, Kai Wayne, produces children of his own.
"It was a great moment for me to lead the side out, something I was really proud of," Rooney said. "When you are a young kid, you dream of captaining England but never think it will happen.
"Now it has happened and I'm proud, and my family will feel the same, but I don't think it was the best game we have played. We can do a lot better.
"The first half was quite even but in the second half they were the better side and deserved the victory. We looked tired at the end. We did okay but we can do better."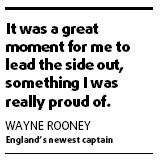 Rooney disagreed with Fabio Capello's view that Brazil should be regarded as the strongest side in the world, arguing European champions Spain had given England more problems in a 2-0 friendly win in Seville in February.
Asked if England could beat Brazil with a first 11, the Manchester United forward replied: "I think so. It was probably Brazil's strongest side bar one or two players and we had nine or 10 missing.
"That is difficult for any team to overcome, especially against Brazil. At full strength we definitely would give them a better game than tonight.
"Are they the best we've faced at international level? I don't know. I think Spain are better. I didn't play in the game against them but I watched it and Spain were a bit better and created more chances."
Rooney, who has just turned 24, was given the captain's armband after John Terry's achilles injury was deemed sufficiently serious for the Chelsea centerback not to be risked.
Terry is hopeful he will be sidelined for days rather than weeks, unlike his Chelsea teammate Frank Lampard, who is out until next month as a result of a thigh muscle tear he suffered in England's first training session in Qatar.
"It was touch and go whether I would play," Terry said. "I gave it a go in the morning before the match and it just wasn't right. I left my leg out and blocked a shot the other day and it clipped my achilles which is still a bit tender. A few days' rest and, fingers crossed, hopefully I will be okay."
Brazil coach Dunga meanwhile has insisted he will continue to consider Capello's men major threats to his squad's chances of becoming the sixth Brazilian side to lift the World Cup.
"In no way would I think that England are not a threat," he said. "We know the quality of players England have and also that they way they play has changed since Capello arrived.
"It is a solid team. The players know what they are doing, they are aggressive and they fight to the last minute. We know they had some big players missing but still we needed to run to the last minute to get the result."
AFP