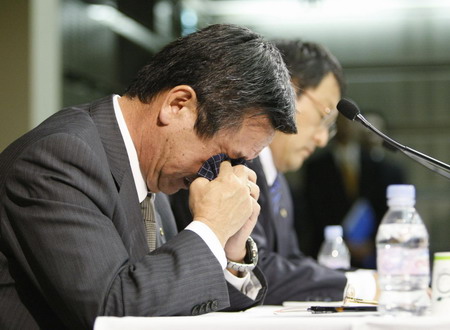 Toyota Motorsport Chairman and Team Principal Tadashi Yamashina cries at a news conference at the company's headquarters in Tokyo November 4, 2009. Toyota Motor announced its withdrawal from Formula One racing after this year. [Agencies]

TOKYO: Toyota Motor withdrew from Formula One on Wednesday, leaving Japan without a team in motorsport's premier series.
Company president Akio Toyoda apologised for the team's failure to record a single race victory since joining F1 in 2002 despite an estimated annual budget of around $300 million.
"This was a difficult but ultimately unavoidable decision," he told a news conference in Tokyo. "Since last year with the worsening economic climate, we have been struggling with the question of whether to continue in F1.
"We are pulling out of Formula One completely. I offer my deepest apologies to Toyota's many fans for not being able to achieve the results we had targeted."
Related readings:


 Alonso bows out from Renault, optimistic for Ferrari


 Red Bull stronger next year, say Vettel


 Vettel finishes F1 GP season on high


 Bridgestone to quit F1 next year


 Champion Button relishes prospect of 'new age' F1
The decision by the world's largest carmaker to pull out of Formula One comes as the auto industry starts to stabilise following a sales crunch in the wake of the financial crisis.
Cologne-based Toyota's departure as a team and engine supplier deals another major blow to the sport after Japan's number two carmaker Honda quit the series last December.
It leaves Japan without a team in F1 and continues the drain of Japanese companies from motorsport, which has seen Subaru and Suzuki withdraw from the world rallying championship.
LEGAL RAMIFICATIONS?
Bike maker Kawasaki also scrapped its MotoGP team in the grip of a severe market downturn.
Japanese tyremaker Bridgestone announced on Monday they would not renew their supply contract with Formula One after the 2010 season.
In July, Toyota's Fuji International Speedway circuit surrendered hosting rights for the Japanese Grand Prix in 2010 and beyond to reduce costs amid the global economic downturn.
The pull-out of Japanese companies from F1 began with Honda-backed Super Aguri, who left for financial reasons early last year.
Toyota's exit leaves just three manufacturers in Formula One - Ferrari (FIAT), Mercedes and Renault.
It also opens the door for BMW-Sauber's new Swiss owners to take their place as the 13th team on the grid.
Toyota signed the concorde agreement earlier this year committing themselves to F1 until at least 2012, so a pullout could also have legal ramifications.
Toyota has forecast an operating loss of 750 billion yen ($8.3 billion) on revenues of 16 trillion yen. It is scheduled to report second-quarter results on Thursday.