FOXBOROUGH, Mass.: If there's one lesson to be learned from Tom Brady's return to the NFL, it's a simple one: the New England Patriots are never out of contention with their star quarterback on the field.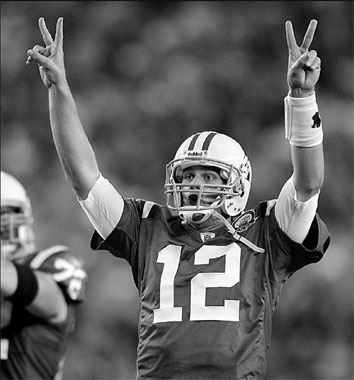 New England Patriots quarterback Tom Brady (12) celebrates his game-winning touchdown pass to Benjamin Watson against the Buffalo Bills on Monday night in Foxborough, Mass. The Patriots won 25-24. [Agencies]
That message came through above the din of more than 68,000 fans at Gillette Stadium on Monday night when Brady threw two touchdown passes to Benjamin Watson in the final minutes for a shocking 25-23 victory over the Buffalo Bills.
Not that Brady and the boys were doubting they'd win their 12th straight against Buffalo in his return to the lineup after missing all but one quarter of last season with torn knee ligaments.
Related readings:


 Model Gisele Bundchen weds NFL star Tom Brady


 Pressure on Patriots' Cassel after Brady season cut short


 Brady out for season with knee injury


 Patriots overcome Brady injury to defeat Chiefs
"We have a real competitive lockerroom, a real competitive team," Brady said. "When you're in a situation like we were, it's when you really have to step it up. It takes every guy on the field to step it up. Hopefully, we will continue to do that."
Nobody stepped up more than Brady, who was mediocre for much of the game, only to live up to the advance billing when the spotlight was its most intense.
"(Brady said) 'We're going to win, we need two touchdowns,'" Watson said of the quarterback's demeanor with Buffalo ahead 24-13. "Tom's the best at it."
A year after the injury, Brady resembled a rusty game manager more than the invincible record-setting quarterback who guided the Patriots to a perfect 2007 regular season. And then he became Tom Terrific again with 18 and 16-yard TD throws to Watson on similar routes.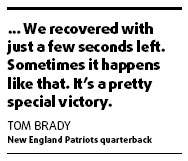 "I felt good all night, we were just off," Brady said. "The plays we needed to make - fourth downs we missed, third downs we missed, two chances in the red area, the interception - those things really get you behind the 8-ball. We recovered with just a few seconds left. Sometimes it happens like that.
"It's a pretty special victory."
One that might not have come if Leodis McKelvin didn't fumble on a kickoff return after the Patriots pulled within five points.
Placekicker Stephen Gostkowski, of all people, recovered at the Buffalo 31. Brady needed three plays before hitting Watson over the middle for the decisive touchdown with 50 seconds to go.
Just 1:16 earlier, he found Watson for the 18-yard score. It was vintage Brady, who threw for a record 50 TDs two years ago in leading New England to a perfect record before a Super Bowl loss to the Giants.
"Two-minute drives always are fun for a quarterback," said Brady, who finished 39 for 53 for 378 yards. "Spread it out, the pass rush gets a little tired, you get a feel for the coverage, you just have to be patient.
"I'm glad it's over, glad we are moving on, got a win and we'll learn from it."
Buffalo seemed ready to win for the first time in Gillette Stadium. Then came McKelvin's mistake.
"I chose to bring it out because that's me, no matter what it is," McKelvin said. "If I had that choice, probably 100 times, I'd do it again."
Coming off a 1-4 preseason in which the offense flopped, the Bills made plenty of big plays.
Trent Edwards outperformed Brady for much of the game and threw for two scores. A 10-yard screen pass TD to Fred Jackson put Buffalo ahead 24-13 with 5:32 to go - even though their new spotlight-grabber, Terrell Owens, barely caused a ripple. Owens had two catches for 46 yards, then refused to speak about it after the game.
When the offense wasn't doing the damage, defensive end Aaron Schobel was rambling 26 yards with an interception for a first-half TD.
Still, these are the Patriots, who have not lost a regular-season game with Brady at quarterback since Dec. 10, 2006. And they still have all those threats in the passing game, from Randy Moss (12 catches, 141 yards) to Wes Welker (12, 93) to tight end Watson (6, 77, two TDs).
AP