SPRINGFIELD, Massachusetts - Michael Jordan, considered by many the greatest basketball player of all time, was inducted into the Basketball Hall of Fame on Friday.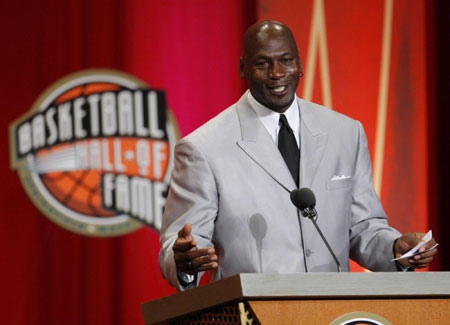 Former NBA player and 2009 inductee Michael Jordan speaks during the Naismith Memorial Basketball Hall of Fame Class of 2009 Enshrinement Ceremony in Springfield, Massachusetts September 11, 2009. [Agencies] 
Jordan joined former San Antonio Spurs center David Robinson, ex-Utah Jazz guard John Stockton, long-time Jazz coach Jerry Sloan and Rutgers University women's coach C. Vivian Stringer in the new class.
Related readings:


 Jordan and Peter Andre to split


 Michael Jordan: Best there ever was, or will be


 Jordan makes the Hall of Fame, with Robinson, Stockton

Just as he was during his playing days, Jordan was again the centre of attention, but was quick to pay tribute to his fellow inductees.
"Contrary to what you guys believe, it's not just me going into the Hall of Fame," said Jordan, who led the Chicago Bulls to six NBA championships then finished his career with two seasons at the Washington Wizards.
"It's a group of us and I'm proud to be a part of them and, believe me, I'm going to remember them as much as they remember me."
Jordan entered the Hall of Fame alongside Stockton and Sloan, who, respectively, played for and coached the Jazz team Jordan's Bulls defeated in the 1997 and 1998 NBA finals.
Jordan's game-winning shot against Utah to win that last championship was a major highlight in a career filled with too many outstanding achievements to count.
Asked to talk about his favorite basketball accomplishment, Jordan said: "It's so hard. It's like asking 'which one of your kids is your best kid?'
"I've had so many great accomplishments, so many spectacular plays, big plays, game-winning shots. It's hard for me to pick out one."
Jordan was also coy about his status as the greatest player of all time, saying he did want to compare himself with players from the past, and warned against judging contemporary and future players against him.
"People say that I was the greatest who ever played the game, I cringe a little bit. I never played against Jerry West, I never played against Elgin Baylor, I never played against Wilt Chamberlain," Jordan said.
"Yeah, I would have loved to but to say that I'm better than those people is not for me to decide.
"Don't be in a rush to try to find the next Michael Jordan -- there's not going to be another Michael Jordan."
Jordan is currently the managing member of basketball operations of the NBA's Charlotte Bobcats and said his love affair with the game remains as strong as ever.
"I don't look at this moment as a defining end to my relationship with the game of basketball," he said.
"It's simply a continuation of something that I started a long time ago. One day, you might look up and see me playing at 50. Oh, don't laugh.
"The game of basketball has meant everything to me - it's my refuge, my peace; it's been the place of the most intense pain and joy that anyone can imagine.
"I hope that it's given the millions of people who I have touched the motivation to follow their dreams.
"Never say never; because limits, like fears, are often just an illusion."