LOS ANGELES: The chance to embellish his unbeaten record will be uppermost in Floyd Mayweather's mind when he takes on Mexican Juan Manuel Marquez in their hotly anticipated welterweight fight in Las Vegas this month.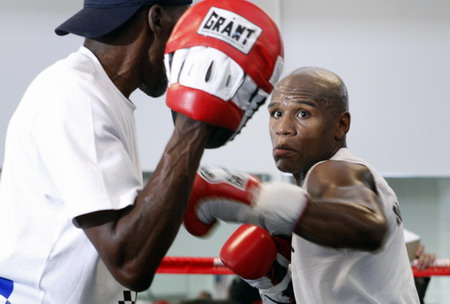 Boxer Floyd Mayweather Jr. (R) of the U.S. works on his timing with uncle and trainer Roger Mayweather during a media workout at the Mayweather Boxing Club in Las Vegas, Nevada September 2, 2009.[Agencies] 
Mayweather has not fought for nearly two years but believes he will be in prime condition when he returns to the ring from retirement for the Sept 19 clash over 12 rounds at the MGM Grand.
"It's very important for me," American Mayweather said during a conference call on Tuesday of his bid to maintain an unblemished career record of 39-0 with 25 knockouts.
"I am just happy to say that I'm going down as a Hall of Famer and it's extremely important for me to go out there to perform well and dominate.
"I've got to go out there and be smart, be intelligent and listen to my uncle Roger," he said, referring to his coach Roger Mayweather. "If I do that, we will come out 'A' okay."
Mayweather, who has not fought since his 10th round stoppage of Britain's Ricky Hatton in a WBC welterweight title bout in Dec 2007, felt his opponents always held one advantage.
No pressure
"When you go out there with an undefeated record there is no pressure on these fighters because they have nothing to lose," the flamboyant 32-year-old said.
Related readings:


 Mayweather: money dispute foils Pacquiao fight hopes


 Mayweather shoots for stars again


 Mayweather Jr to make comeback to the ring


 Mayweather wins with knockout


Hatton hopes Mayweather sticks to dancing
"If Marquez gets beat in 12 rounds or he gets knocked out, they are still going to love him in his country because he had the chance to face the best. They will say, 'You lost but you lost to the best'.
"But in the US it doesn't work like that so we have to work that much harder to stay on top. If I win, it's normal. If a guy gives me a tough fight or even comes close to winning, that's abnormal. Everybody expects me to dominate."
Mayweather, a five-division world champion who is already accepted as one of the greatest boxers of any era, shrugged off suggestions he might be ring-rusty after his 21-month absence.
"I don't think a two-year layoff is going to affect me," he said. "I feel fast and strong and my timing is there. We are in the gym every day and we are looking very sharp.
"I feel the same way as I felt before I left. Actually, I feel a little better. I think the break helped because I haven't had a break since '87 so my body had a chance to heal. I feel really good."
Mayweather said he would not underestimate the challenge posed by Marquez, a Mexico City native who has a 50-4-1 record with 37 knockouts.
"He is Mexico's numero uno," he said.
"He's one hell of a fighter with more than 50 wins and champion in more than just one weight class. Believe me, Marquez is not going to lay down.
"There's going to be blood, sweat and tears on Sept 19."
Reuters