China's embattled men's basketball coach, Guo Shiqiang, faces the axe after another poor performance by the national team at the FIBA Stankovic Basketball Continental Cup.
Guo, 34, came under heavy fire after the team suffered one of their most humiliating losses in Asian Basketball Championships' history - a 70-52 final defeat at the hands of Iran two weeks ago. The Chinese Basketball Association (CBA) backed Guo and hoped he could get the team back on track at the Stankovic Cup in Kunshan, Jiangsu province.
However, he and his men, who have played without NBA stars Yao Ming and Yi Jianlian, slumped to two straight losses against weakened Australian and Turkish teams on Saturday and Sunday and that should spell the end of Guo's tenure in charge.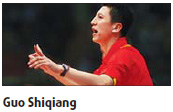 There have been overwhelming calls for his dismissal in the local media.
"China's basketball team are driving themselves to suicide", famous basketball commentator Yang Yi wrote as the headline for his blog on the internet after Turkey defeated China 81-79 at the buzzer in overtime on Sunday. The day before, China saw Australia come from 10 points down to win 76-74.
"These two defeats hurt us more than the loss in the Asian Championships," said the Beijing News. "We fell over and over again. It's unacceptable."
Eighty-two percent of fans insist Guo should step down as soon as possible, according to a public poll on China's leading portal Sina.com.
"If China's basketball keeps going in such a wrong way, I'm afraid we will lag farther behind of the world's best teams," a fan named Liu Hai said on sports.sohu.com.
Related readings:


 Unbalanced Asian basketball tests tolerance of fans and hosts


 China puts wrong foot forward in Asian Cup qualifier


 Overseas Chinese speak highly of China basketball

 'Basketball diplomacy' adds vigor to Sino-US S&ED
Some even believe it's impossible for Guo's team to reach the quarterfinals at next year's World Championships - even if Yao and Yi play.
"Basketball is a sport of team play. A good coach plays a pivotal role when a team wins," said a comment on sports.sina.com. "But we cannot see any positive things from Guo's team. We cannot see any advanced tactics. This team has no hope under Guo's leadership."
Even the sport's local governing body, the CBA, has been targeted by the media for its decision to appoint Guo and then keep him on after the Asian Championships.
"The core problem is from the CBA," said the Beijing Evening newspaper. "We have to reflect on their mistakes and replace Guo as soon as possible.
"China's basketball is ailing right now. The CBA should take the responsibility and find the right coach for the team."
Guo, a teammate of NBA All-star center Yao just five years ago at the Athens Olympics, was appointed head coach in May, making him the youngest national hoops coach in the nation's history.
Assistant coach Brian Goorjian is touted as the man most likely to take over the job.
The former Australian men's basketball coach brought his expertise to China after signing on as a consultant to the Chinese men's team in May. He agreed to work with the squad ahead of the World Championships and the 2012 Olympics.
Goorjian, who coached the Australian Boomers at the past two Olympics - including a quarterfinal finish in Beijing, earlier said the opportunity to return to the international stage with China was too good to pass up.
"I feel honored to be a part of this," Goorjian said.
Meanwhile, China gained a consolation victory over Angola last night, 58-50.