CALGARY - The Canadian men's ice hockey team completed a four-day orientation camp with an energetic intra-squad game on Thursday, before bidding farewell until the start of the 2010 Vancouver Olympics in February.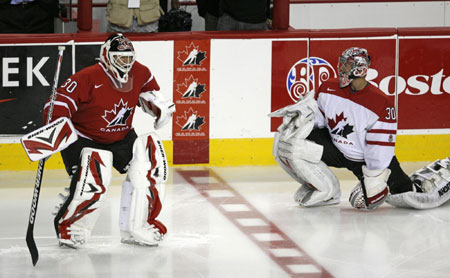 Team Red goalie Martin Brodeur (L) and Team White goalie Cam Ward stretch during the warm-up before their exhibition game at Team Canada's Olympic hockey training camp in Calgary August 27, 2009. [Agencies] 
A capacity crowd of more than 19,000 packed into the Saddledome on a sweltering summer night to watch the Olympic auditions, providing players with a rousing send-off as they scattered across North American to join their NHL teams.
While hockey-mad Calgarians were able to enjoy some off-season action, they left the rink with little idea as to who will be on the Olympic team after the camp wrapped up without a roster or team captain announced.
Team Canada officials, however, declared the gathering a roaring success and believe solid foundations have been laid to capture the gold medal the nation covets most.
"I think for the most part we accomplished most of the things we had hoped to and talked about," Team Canada executive director Steve Yzerman told reporters.
"I'm hopeful after tonight when the players leave they have a good understanding of everything we are going to be doing.
"This is really our only opportunity to apply those things.
"After today we will have one full practice on February 15 before we play our first game against Norway."
CRASH COURSE
When the team re-assembles in Vancouver at least half the 46 player who participated in the Calgary camp will not be on the final 23 man roster which will be announced in late December.
With limited opportunity to prepare for Vancouver, coach Mike Babcock provided players with a four-day crash course in the up-tempo, attacking style of hockey Team Canada will use to try to win a gold medal.
"All this camp is about is building that base, that knowledge, how you're suppose to play," said Philadelphia Flyers defenseman Chris Pronger. "Most of us are pretty smart and once you've got that base you can pick up things pretty quickly.
"I think that's what this camp is about, giving us as much information of how they want the guys to play and they have an understanding of what's expected."
While Babcock warned not to read too much into the different line combinations he sent over the boards in Calgary, Thursday's scrimmage offered up a few intriguing possibilities.
A super-line of goal-scoring wingers Rick Nash and Jarome Iginla centred by Pittsburgh Penguins set-up artist Sidney Crosby spent most of the four days together and had the look of Canada's top unit in Vancouver.
"I think there's something there," Babcock admitted.
"I don't know if we made any decision or if everything just got harder tonight but that's why it's great that we have until December to decide what we are doing."